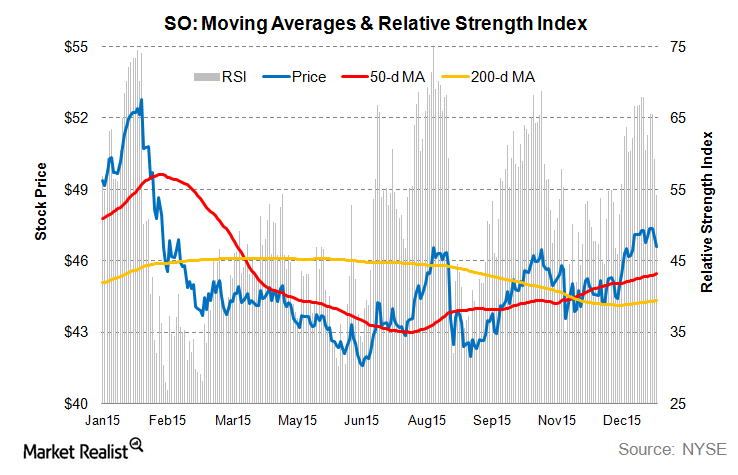 SO Reached a Settlement for the Completion of Its Vogtle Plant
By Vineet Kulkarni

Jan. 14 2016, Updated 1:31 a.m. ET
Focus on regulated operations
Many US utilities (IDU) have been continually reducing their exposures to unregulated business operations due to volatile power prices.
Southern Company (SO) derives almost 90% of its revenues from its regulated segment. In fact, SO has been expanding its regulated operations aggressively, and it may further reduce its reliance on its unregulated segment in the near future.
Article continues below advertisement
Technical indicators
Currently, Southern Company is trading above its 50-day and 200-day moving averages by 2% and 5%, respectively, as of January 12, 2016. This indicates a possible upward movement in the stock. Also, a slight upward curve of its 200-day moving average indicates bullishness.
The stock's relative strength index is falling from last week's near-70 levels. It currently stands at 55. The relative strength index is a momentum oscillator that takes values between 0 and 100. Movements below 30 are considered to be in the oversold zone, while movements above 70 are interpreted to be in the overbought zone.
Vogtle nuclear plant settlement
Southern Company's subsidiary Georgia Power said in a regulatory filing in December 2015 that it had reached a settlement with contractors regarding the ongoing construction of its Vogtle nuclear plant.
Westinghouse Electric Company, a designer of the Units 3 and 4 of this nuclear plant, bought Chicago Bridge & Iron's (CBI) nuclear construction business for $229 million. Now, Westinghouse will look after the Vogtle nuclear plant along with Fluor (FLR). Westinghouse is also constructing a nuclear plant for SCANA (SCG) in South Carolina.
Originally expected to be operational in 2016, the in-service dates of the 2,400 megawatt Vogtle plants have now been pushed back to 2019 and 2020. SO has reported several delays and cost overruns during the life of this project. It has also claimed that the associated contractors have been responsible for the delays and cost overruns.
Georgia Power, which owns 46% of the power plant, will pay $350 million to settle the claims against SO by Westinghouse and CBI. This plant is considered to be vital to SO. After becoming operational, it will be the largest nuclear plant in the United States.