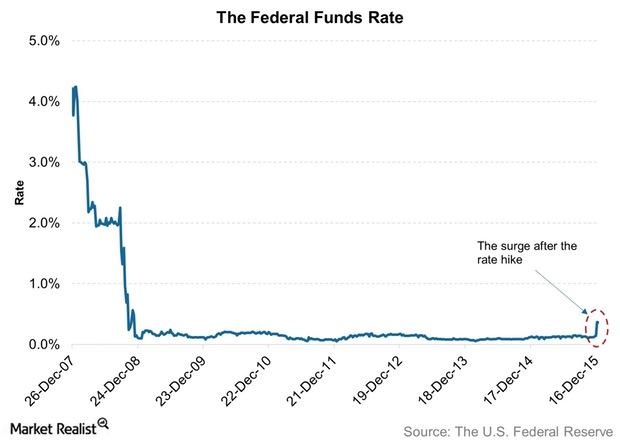 We Have Rate Liftoff: Now What?
By David Ashworth

Jan. 14 2016, Updated 3:11 p.m. ET
Liftoff in 2015
One of the recurrent themes in 2015 was speculation regarding the Federal Reserve's raising of the federal funds rate. A fall in gasoline prices, which had adversely impacted related stocks such as Kinder Morgan (KMI), Chevron (CVX), and ConocoPhillips (COP) among a host of others, had raised hopes that consumers would hit stores and spend their extra cash.
However, as 1Q15 rolled out, analysts realized that their expectations had not materialized. A harsh winter kept consumers at home, and though online spending remained strong (AMZN), it could not carry the burden of sales growth expectations by itself. This resulted in an economic contraction, which later revised to show some growth. Overall, economic output disappointed.
Article continues below advertisement
Rate hike expectations
A large segment of the market was expecting a rate hike to be announced in June 2015. However, with tepid consumer spending numbers reflecting the sub-par state of the economy, rates were not hiked that month.
September, another much-discussed contender, also did not see a change in policy rates. This time, the job market was to blame. Job additions, which had been robust for most of 2015, suddenly slumped for two consecutive months in August and September. The Fed, which had August's numbers available when it met in September, decided to wait and watch.
We have liftoff
When the Fed met in October, a large segment had given up hope of a liftoff in 2015 and had shifted their focus to 2016. However, policymakers sounded hawkish in October and hinted at a rate hike in the last remaining meeting of 2015.
By December, the liftoff became nearly a certainty. On December 16, 2015, policymakers hiked the target range of the federal funds rate by 25 basis points to 0.25%–0.50%.
In this series, we'll take a look at what bond mutual fund investors (VFIIX) (PRGMX) can do in 2016, factors they should be aware of, and what professional money managers are saying. We'll begin with a roundup of US Treasuries in 2015.