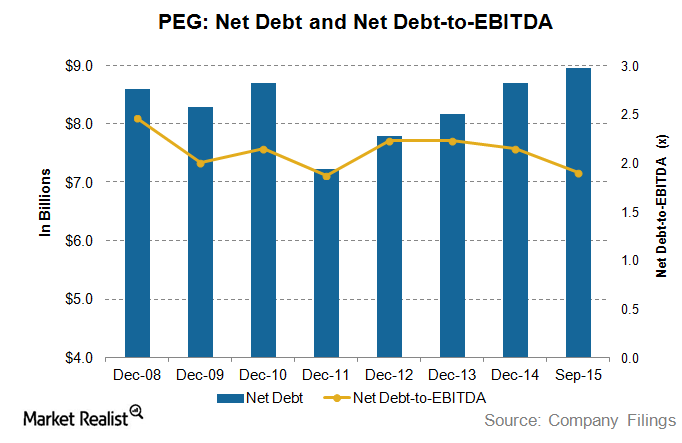 Public Service Enterprise Is Underleveraged Compared to Peers
By Vineet Kulkarni

Jan. 15 2016, Updated 9:05 p.m. ET
Debt profile
Public Service Enterprise (PEG) has a $13 billion capital spending plan for the next five years. This will be mainly funded by long-term debt financing. As of September 30, 2015, PEG had a total debt of $9.2 billion against equity of $12.9 billion. In this total debt, $8.1 billion is long-term debt. The company has a debt-to-equity ratio of 0.7x and a debt-to-capitalization ratio of 0.4x.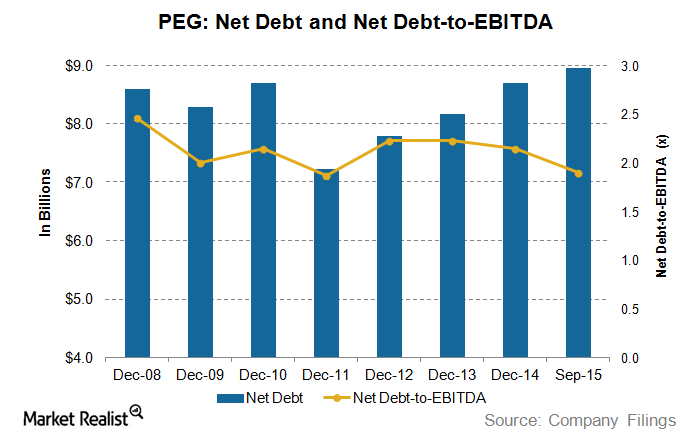 Article continues below advertisement
Leverage
PEG has a net debt-to-EBITDA (earnings before interest, tax, depreciation, and amortization) ratio of 1.9x, which is much lower than FirstEnergy's (FE) 6.3x. Large-cap peer NextEra Energy (NEE) has a net-debt-to-EBITDA ratio of 3.4x. The net-debt-to-EBITDA ratio shows how many years it would take a company to repay its debt if debt and EBITDA are held constant.
Utilities (XLU) is an asset-rich business involving heavy amounts of debt. Thus, leverage is an important metric when analyzing utilities. PEG has a debt-to-asset ratio of 0.2x, which is lower than FirstEnergy's 0.4x. Leading utility NextEra Energy (NEE) has a debt-to-asset ratio of 0.36x. The ratio represents the proportion of a company's assets that are financed by debt. The metric assesses the financial risk of the company.
Credit rating
In May 2015, S&P (Standard & Poor's) Financial Services revised PEG's outlook from positive to stable with a credit rating of "BBB+." S&P is a renowned credit rating agency that assesses and rates companies based on their financials. By comparison, S&P has given Exelon (EXC) a credit rating of "BBB" and a "stable" outlook. At the end of fiscal 3Q15, the utility sector's average credit rating was "BBB+."