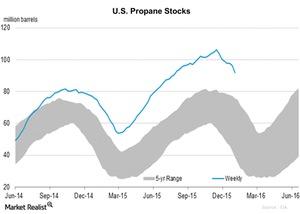 Propane Inventories Decreased, Propane Production Rose
By Manu Milan

Jan. 15 2016, Updated 9:39 a.m. ET
Propane inventories
In its weekly petroleum status report released on January 13, 2016, the EIA (U.S. Energy Information Administration) stated that US propane inventories decreased by 4.5 MMbbls (million barrels) to 91.9 MMbbls for the week ended January 8, 2016.
Propane inventory levels were still well above the upper limit of the five-year average range. These levels are 17.0 MMbbls greater, or 22.7% higher, than they were in the same period last year.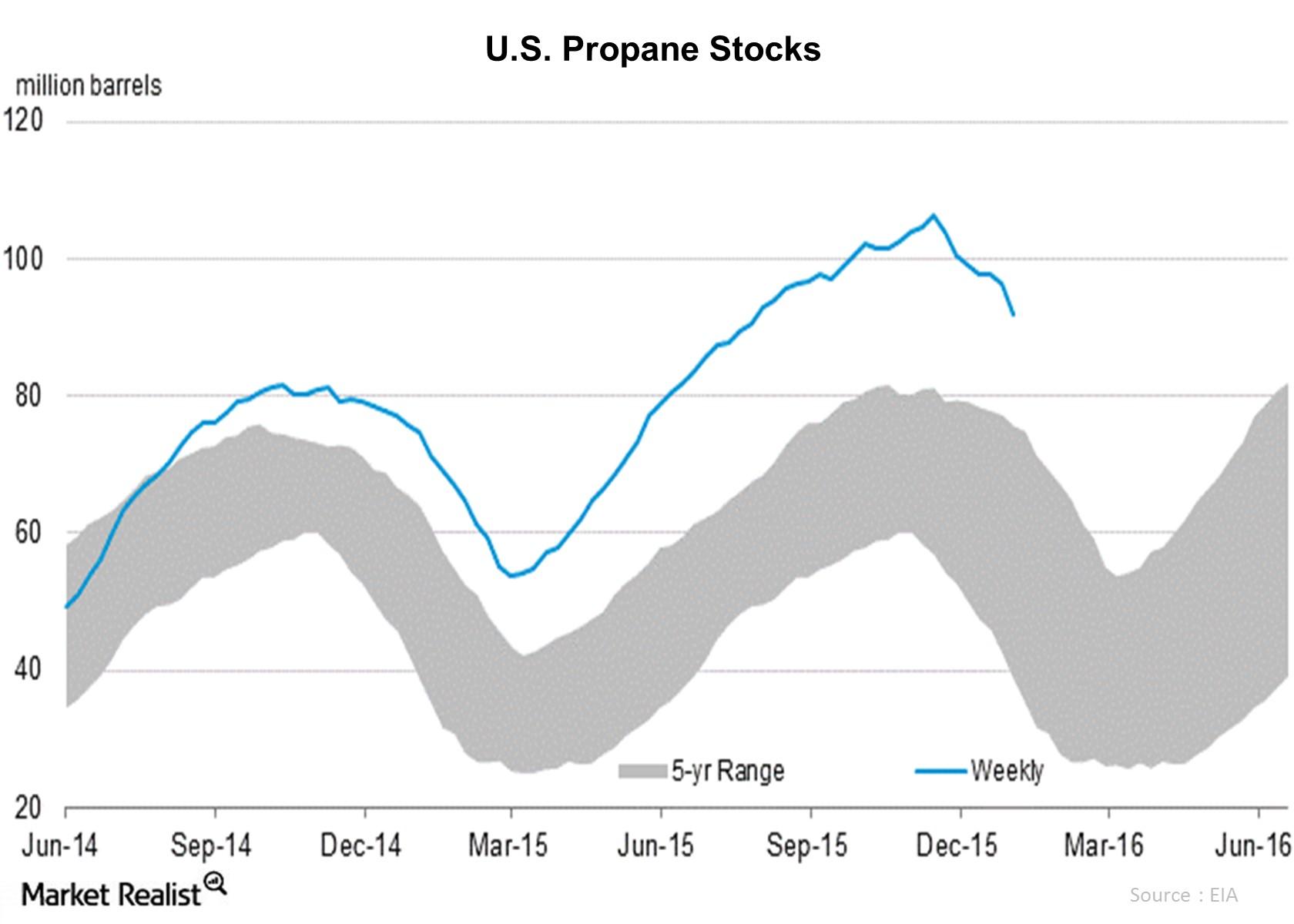 Article continues below advertisement
Propane production rose
US propane production rose for the week ended January 8, 2016, to around 0.01 MMbpd (million barrels per day). In the week ended January 1, 2016, propane production was about 1.7 MMbpd. These levels were 11.5% more than production levels in the corresponding week last year.
Propane production rose even though propane inventories fell by 4.5 MMbbls, which represents a rise in propane demand. Propane is used to heat some US households, so propane demand generally rises in the mid-winter months due to below normal temperatures in most regions where propane is used. A higher demand made propane inventories decrease despite a rise in production levels.
Propane production levels were more than 10% higher than the same period last year. With declining inventories, that indicates that propane demand is greater than last year's demand. That's a positive indication for propane prices, which are suffering from a long-term supply glut in the energy markets. The decline in propane inventories has a positive impact on propane producers and distributors such as Ferrellgas Partners (FGP), Suburban Propane Partners (SPH), AmeriGas Partners (APU), and Star Gas Partners (SGU).
Ferrellgas Partners (FGP) makes up ~2% of the Global X SuperDividend US ETF (DIV).