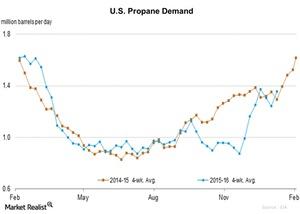 A Surge in Propane Demand: Will the Trend Continue?
By Manu Milan

Jan. 15 2016, Published 9:39 a.m. ET
Propane demand and prices
The EIA's (U.S Energy Information Administration) weekly propane and heating oil update was released on January 13, 2016. The report stated that US residential propane demand was 1.8 MMbpd (million barrels per day) for the week ended January 8, 2016. Propane demand was 0.49 MMbpd more than the prior week's demand and 0.56 MMbpd more, or 46.2% higher, than the demand in the same period last year.
US residential propane prices averaged $2.01 per gallon on January 11, 2016. That was $0.01 per gallon higher than the price on January 4, 2016, and $0.33 per gallon, or 14.3%, lower than propane prices in the corresponding period last year.
Article continues below advertisement
Below normal temperatures pushed propane demand
As we saw in the first part of this series, propane inventories declined due to a rise in propane demand by 0.49 MMbpd for the week ended January 8, 2016. The rise in propane demand pushed the price of propane up $0.01 per gallon. Since propane is used for heat in some US households, propane demand generally rises in mid-winter months due to below normal temperatures. The NOAA (National Oceanic and Atmospheric Administration) projected below normal temperatures for the week ended January 8 in most regions where propane is used.
The NOAA has now forecast a shift from below normal temperatures to above normal temperatures in regions such as the Midwest and Northeast. So propane demand could fall in the upcoming weeks, which means propane prices could drop.
Lower propane prices could impact the profitability of propane distributors and producers such as Suburban Propane (SPH), Ferrell Gas Partners (FGP), NGL Energy Partners (NGL), and AmeriGas Partners (APU).
The Global X SuperDividend US ETF (DIV) tracks 1.6% of its investments from Suburban Propane (SPH).
In the next part of this series, we'll look at updates on heating oil prices.