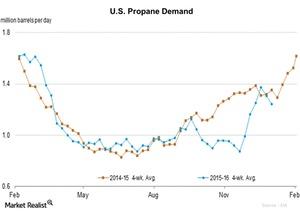 Propane Demand and Cold Forecasts Pushed Propane Prices
By Manu Milan

Jan. 11 2016, Updated 8:07 a.m. ET
Propane demand and prices
The EIA's (U.S Energy Information Administration) weekly propane and heating oil update were released on January 6, 2016, and reported that US residential propane demand is 1.3 MMbpd (million barrels per day) for the week ended January 1, 2016. As of that week, propane demand is 0.25 MMbpd more than the prior week's demand, and also 0.17 MMbpd, or 10.8%, less than the demand in the corresponding period last year.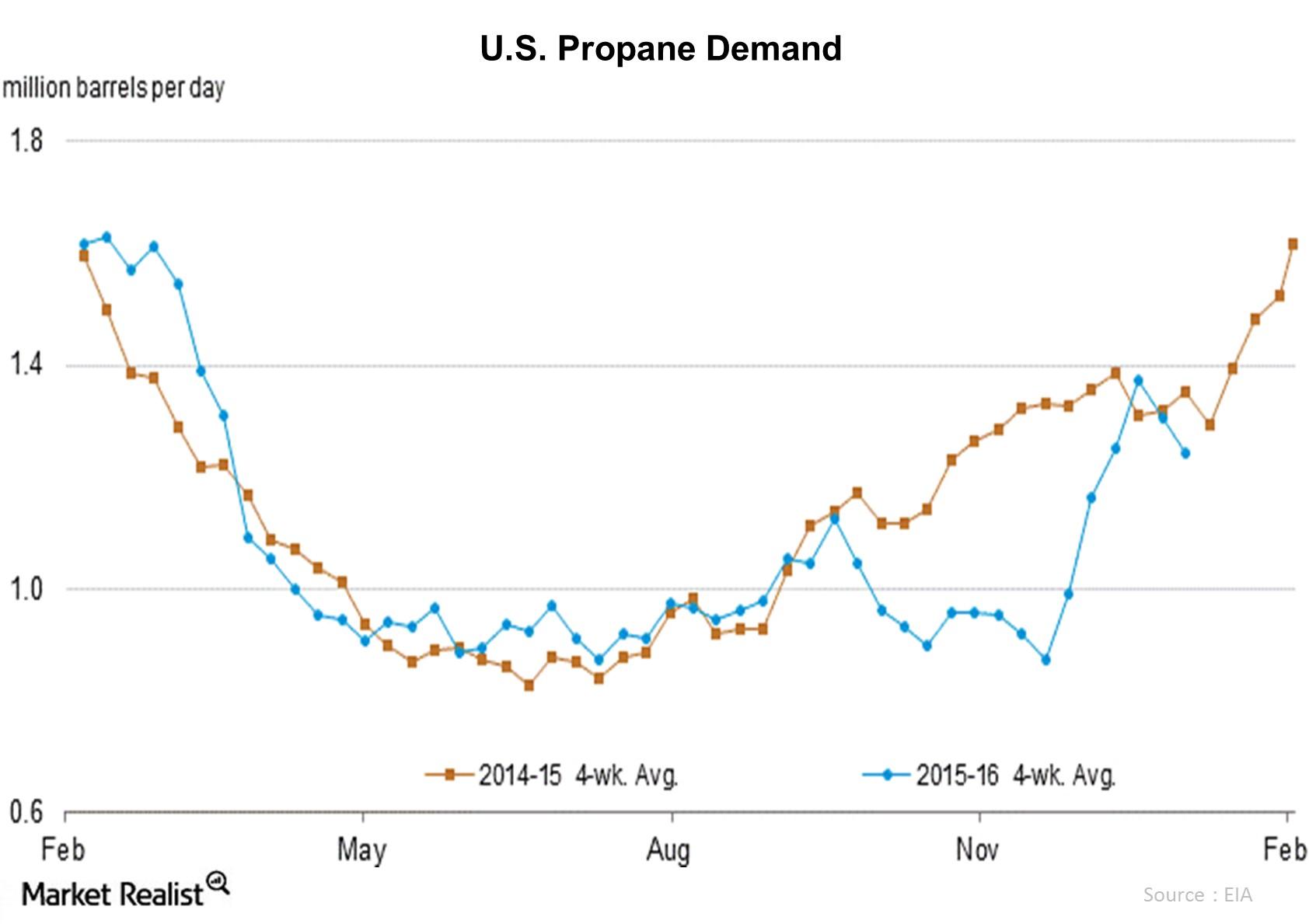 US residential propane prices averaged $2.0 per gallon on January 4, 2016, or $0.01 per gallon higher than the prices on December 28, 2015, and $0.35 per gallon, or 15.05%, lower than propane prices in the corresponding period last year.
Article continues below advertisement
Propane demand turned positive
The fall in propane inventories is by 1.34 MMbbls for the week ended January 1, 2016, due to a rise of 0.25 MMbpd in propane demand. Propane demand has been weak for quite a long time due to above-normal temperatures during this winter season of 2015–2016. But propane inventories are at record levels due to more production because of lower crude oil prices. This had an adverse impact on propane prices.
In the midwinter season, propane demand will generally rise due to colder temperatures. Last week's rise in propane demand and the NOAA's (National Oceanic and Atmospheric Administration) forecasts about colder temperatures are turning positive for the propane demand.
The NOAA forecast a high probability of below-average temperatures in much of the United States east of the Rockies moving west to east. Some regions have a high probability of experiencing colder temperatures, and that can push propane demand and prices.
The rise in propane demand will raise the sales volumes and could generate more revenues for propane producers and distributors such as Ferrellgas Partners (FGP), Ameri Gas Partners (APU), Suburban Propane (SPH), and NGL Energy Partners (NGL).
The Guggenheim Multi-Asset Income ETF (CVY) holds 0.62% of Ameri Gas Partners (APU).