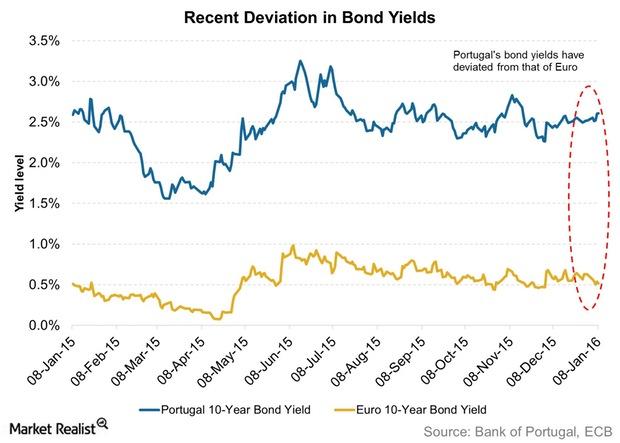 Portugal's Bond Yields Are Diverging from the Rest of Europe
By David Ashworth

Nov. 20 2020, Updated 1:31 p.m. ET
Portugal's bond yields
If you have been tracking Europe and its constituent nations' bond yields in the past month, you might have seen that Portugal's bond yields have been diverging from the rest of Europe. The highlighted portion of the following graph shows the deviation between the yields on ten-year Portuguese bonds compared to its European counterpart.
Although the graph shows several periods of deviation, we're referring to the latest period, especially since the end of December.
Article continues below advertisement
Why did Portugal's bond yields rise?
On December 29, 2015, the Bank of Portugal reassigned five of Novo Banco's senior bonds to Banco Espirito Santo. The move was intended to capitalize Novo Banco in light of the ECB's (European Central Bank) stress test results from in November 2015. The results showed a 1.4 billion euro shortfall in capital for the bank in an adverse scenario.
Novo Banco was created by the Bank of Portugal in 2014. The bank used some of the money that it received from the EU (European Union) and the IMF (International Monetary Fund). Portugal's central bank used the money to bail out Banco Espirito Santo. It became the bad bank. It had toxic assets. Novo was the good bank.
This meant that equity shareholders and junior debt holders were stuck with Banco Espirito Santo. Senior debt holders were safe because their holdings shifted to the good bank.
Portuguese bond holders reacted negatively to the Bank of Portugal's move of transferring five senior bonds of Novo Banco to the bad bank towards the end of December. The move violated "pari passu." It could also set an inappropriate practice for other troubled banks. Stocks of other banks from the region like Banco Santander (SAN), Banco Bilbao Vizcaya Argentaria (BBVA), and Banco Bradesco (BBD), which lent to Banco Espirito Santo, fell after the move.
Investors in US-focused bond mutual funds (AMUSX) (JHGIX) don't have anything to worry about. Could this signal trouble for investors in fixed-income mutual funds like the Oppenheimer International Bond Fund – Class A (OIBAX) and the T. Rowe Price International Bond Fund (RPIBX)? They have sizable exposure to European bonds. We'll discuss this more in the next part.