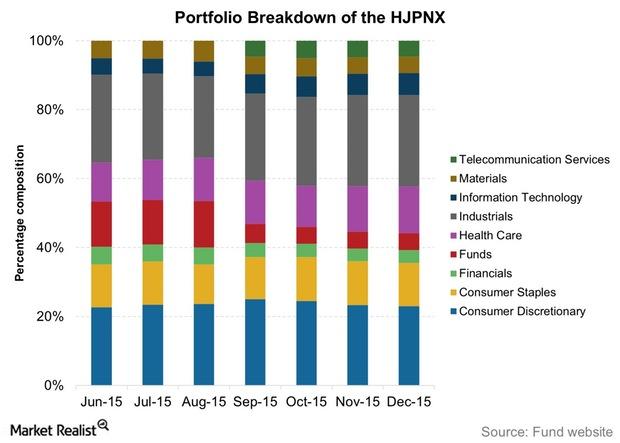 A Portfolio Scan of the Hennessy Japan Fund (HJPNX) in 2015
By David Ashworth

Jan. 29 2016, Published 4:53 p.m. ET
Hennessy Japan Fund
The Hennessy Japan Fund – Investor Class (HJPNX) notes that it "seeks long-term capital appreciation by investing in stocks of Japanese companies." It states that it intends to do that by screening for companies with strong businesses and management, trading at an attractive price, regardless of market capitalization. Through in-depth and rigorous analysis and onsite research, the portfolio managers identify stocks with a significant "value gap."
The fund is quite concentrated, with only 21 holdings as of the end of December 2015. The fund's literature states that the fund has a concentrated number of holdings. Due to this concentration, the top ten holdings of the fund form over 54.5% of the fund's assets.
Article continues below advertisement
Speaking of assets, the Hennessy Japan Fund – Investor Class (HJPNX) was managing $128 million in assets at the end of December 2015. As of the fund's September portfolio, the latest available with complete holdings, the fund was invested in Nidec Corporation (NJ), SoftBank Group Corp. (SFTBY), Sumitomo Mitsui Financial Group, Inc. (SMFG), Toyota Motor (TM), and Mizuho Financial Group, Inc. (MFG), forming a combined 16.5% of the fund's portfolio.
Historical portfolios
For this analysis, we will be considering HJPNX's holdings as of September 2015, which is the latest available sectoral breakdown. The post-September holdings reflect valuation-driven changes to the portfolio, not the actual holdings.
Industrials and consumer discretionary stocks form the core of the portfolio. Combined, these two sectors command 46% of the fund's assets. Healthcare and consumer staples follow, in that order, and are the only other sectors whose weights are in double digits. The fund has only recently initiated a position in the telecom services sector with the addition of SFTBY. Interestingly, financials form only 3% of the fund's portfolio, unlike any of its peers.
With such a concentrated portfolio, it would not be germane to look at the sectoral holding through the year. The reason is that this concentrated strategy indicates a complete focus on stocks, with no role of industries or sectors they belong to figuring in the portfolio construction decision.
As can be seen from the graph above, there has been a change in allocation to a few sectors. This has primarily been because the fund has deployed assets invested in liquid funds into stocks. Except for industrials, fund managers have stuck to their holdings through the year.
Performance in 2015
The Hennessy Japan Fund – Investor Class (HJPNX) did not have a great December 2015. However, 2015 was better for HJPNX for its performance, placing it third in a group of six funds chosen for this review. The fund returned 12.9% in the year.
This fund is suitable for those investors who are comfortable investing in Japan. If you're looking for a casual exposure to Japanese equities, this fund's strategy is not for you.
In the next article, let's take a look at the Voya Japan TOPIX Index Portfolio – Class A (IJIAX).