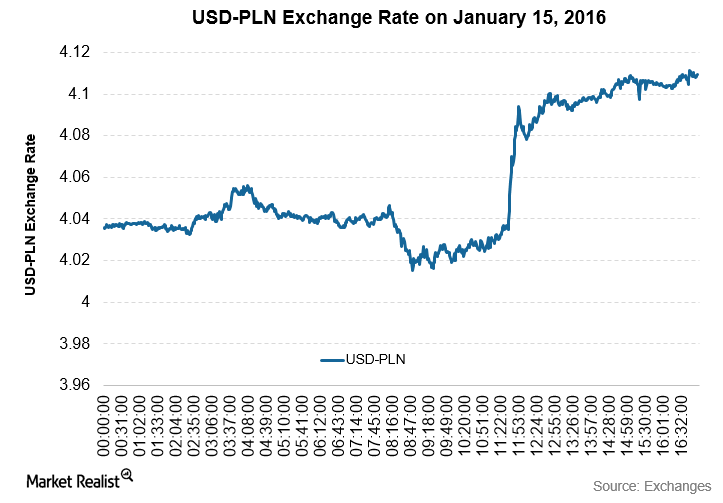 Polish Zloty Recovered, Central Bank Kept Rates Unchanged
By David Meyer

Jan. 18 2016, Published 8:31 a.m. ET
Polish zloty rose after falling by 1% on January 14
The Polish zloty recovered against the US dollar on January 15, 2016, after falling sharply in the previous day's session. Poland's president proposed a drafted plan to convert mortgages denominated in the Swiss franc into the zloty. This fueled less confidence on lenders' earnings. Officials stated that the state budget won't shoulder the cost of conversion. The move led to speculations that rating agency Standard & Poor's might downgrade its credit rating from positive to neutral. The franc's increased value in the past year, after the SNB (Swiss National Bank) removed its peg with the euro, created problems for borrowers in foreign currency across Poland. Now, they're wary of the government's move to convert mortgages into the zloty.
Article continues below advertisement
Polish central bank maintains rates at 1.5%
As estimated, the Polish central bank kept its benchmark interest rate unchanged at 1.5% on January 14, 2016. Governor Marek Belka acknowledged deflationary forces. He expects the inflation levels to remain depressed in the near term. He stated that weak global fundamentals are responsible for the depreciation in the zloty. He's optimistic about the central bank's profits. The Lombard rate and the deposit rate were kept stable at 2.5% and 0.5%, respectively. Also, the rediscount rate was maintained at 1.8%.
Inflation fell less in December
Consumer inflation fell in line with the forecasts for December. It fell by 0.5% on an annual basis—compared to a fall of 0.6% in November. The deflation report was the lowest fall since September 2014. On the other hand, prices fell by 0.2% on a monthly basis in December—compared to a fall of 0.1% in November.
Impact on the market
Looking at ETFs, the iShares MSCI Poland Capped ETF (EPOL) fell by 3.9% on January 15, 2016. On the other hand, the iShares Europe ETF (IEV) was trading lower by 3.7%.
Looking at ADRs (American depositary receipts) trading on US exchanges, Swiss company ABB (ABB) was trading lower by 4.0% while Logitech (LOGI) ended lower by 1.8%.
Among Eastern European ADRs, Turkish company Turkcell Iletisim Hizmetleri (TKC) was trading lower by 3.1%.