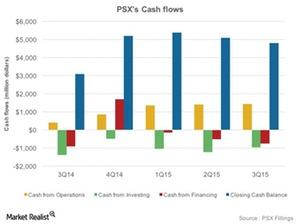 Phillips 66's Cash Flow: Rising Shareholder Returns and Capex
By Maitali Ramkumar

Dec. 4 2020, Updated 10:52 a.m. ET
Phillips 66's cash flow analysis
Earlier, we examined Phillips 66's (PSX) leverage position. In this part, we'll analyze PSX's cash flow. Phillips 66 has seen a steep rise in its cash balances in the past four quarters. Its cash balance in 3Q15 stood at $4.8 billion, showing a 55% rise over 3Q14.
Article continues below advertisement
Phillips 66's cash flows from operations and investing
PSX's cash flow from operations has remained robust in the past few quarters on the back of better earnings in its refining segment. PSX's cash from operations grew more than three-fold to $1.4 billion in 3Q15 compared to 3Q14.
From 3Q14 to 3Q15, PSX maintained average quarterly cash flow from operations at $1.1 billion. The company has continued its focus on preserving growth. In the past four quarters, PSX has on an average committed $1.1 billion per quarter toward capex activities.
Phillips 66's cash flow from financing
PSX's cash from financing activities mainly consists of changes in debt, dividend payments, and share repurchases. Phillips 66 (PSX) has created huge value for its shareholders by paying dividends and repurchasing shares continually.
PSX's dividend has grown steadily over the past few quarters. In 3Q15, PSX paid a dividend of $300 million, recording 8% growth over 3Q14. Its dividend yield rose marginally to 2.8% in 3Q15. The dividend yield is a measure of dividend per share paid compared to the price of the share. PSX's average dividend yield stood at 2.5% in past four quarters.
In 3Q15, the dividend yields for Tesoro (TSO), Marathon Petroleum (MPC), and Valero Energy (VLO) stood at 1.7%, 2.3%, and 2.5%, respectively. Phillips 66's dividend outflow grew by 32% to $1 billion in 2014. In 9M15, PSX paid $874 million in dividends.
Phillips 66 also focuses on share buybacks to increase value to its shareholders. It repurchased net shares worth $2.2 billion in 2014. In 9M15, PSX bought back shares worth $1.1 billion. Combining dividends and buybacks, Phillips 66's shareholder returns amounted to $3.3 billion in 2014 and $1.9 billion in 9M15.
The iShares Global Energy ETF (IXC) has PSX, VLO, MPC, and TSO in its portfolio. The ETF has ~7% exposure to oil refining sector stocks.