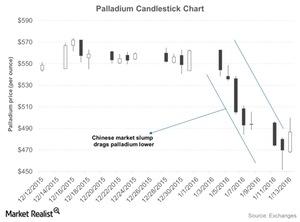 Palladium Trades at Multiyear Low Owing to Chinese Slump
By Meera Shawn

Dec. 4 2020, Updated 10:53 a.m. ET
Chinese market slump
According to the data by the China Association of Automobile Manufacturers, vehicle sales in China's giant consumer market rose by 4.7% during 2015. The is the lowest gain seen in demand since the year 2012. Slumping car sales adversely affected palladium, which fell about 14% from the start of the year.
China is the biggest buyer of palladium and accounts for almost one-fifth of total palladium demand. Palladium has seen six out of seven down trading days as of January 12, 2016. The recent stock market slump in China, which caused global tumult, hurt platinum and palladium. However, the same events gave strength to safe-haven assets gold and silver.
Palladium futures prices for March expiry are trading at a five-year low of $451.5 per ounce as of January 12, 2016. However, January 13 saw palladium's price recover from multiyear lows by 3.6% to close at $467.3 per ounce.
Article continues below advertisement
Technical analysis
The average five-day volatility in palladium is trading at 33.28. Palladium is the most volatile of the four precious metals gold, silver, platinum, and palladium.
The RSI (relative strength index) for palladium was at its lowest level of 26.2 as of January 12. A value of below 30 indicates possible undervalued levels, and a value of above 70 indicates a possible pullback.
The fall in palladium's price has caused a significant rise in the gold-palladium ratio, which states the number of palladium ounces it takes to buy a single ounce of gold. The ratio has risen to ~2.4 from the 1.8 level seen during mid-December.
The upheaval in the Chinese markets has caused precious metals to become volatile, and this volatility is extended to ETFs such as the SPDR Gold Shares ETF (GLD) and the Global X Silver Miners ETF (SIL). Mining-based stocks such as Barrick Gold (ABX), Sibanye Gold (SBGL), and Agnico Eagle Mines (AEM) are also affected.