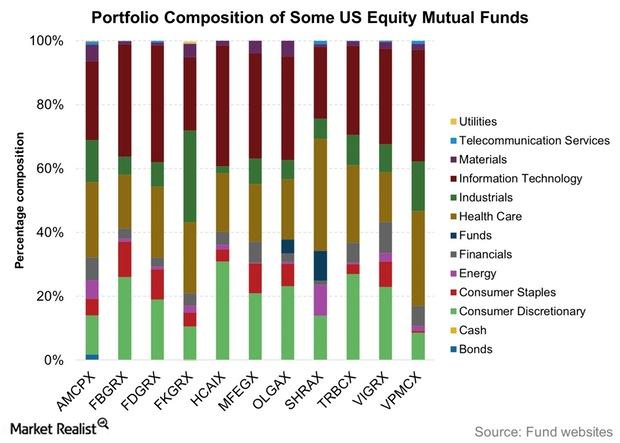 What Were the Overall Trends in Large-Cap Mutual Funds Last Year?
US equity mutual funds
In this series, we have reviewed 11 US large-cap equity mutual funds in terms of their sectoral changes over the past year and the reasons for their performance in 2015. How does the overall portfolio position of these funds look? We've used the latest available complete portfolio declarations for the graph below.
Article continues below advertisement
Portfolio composition
The graph above provides a bird's eye view of what you're in for if you're investing in any of these 11 US large-cap equity mutual funds.
Most of the funds (nine out of 11) have the information technology sector as their top choice. There are three funds (FBGRX) (FDGRX) (HCAIX) that have over 35% of their assets invested in this sector. The two exceptions are the Franklin Growth Fund – Class A (FKGRX), which has bet on industrials, and the ClearBridge Aggressive Growth Fund – Class A (SHRAX), which has bet on healthcare. In both cases, information technology is the second highest sector.
FBGRX is the only fund that has a double-digit exposure to consumer staples. The Vanguard PRIMECAP Fund – Investor Shares (VPMCX) has less than 1% of its stocks invested in staples while the SHRAX has completely avoided the sector. Two funds (AMCPX) (OLGAX) have 5% or more of their portfolio invested in materials. Except SHRAX and AMCPX, no fund has a sizable exposure to energy.
FKGRX, the oldest among these nine funds, has been around since 1948 while HCAIX, the youngest, was incepted in 2002.
Article continues below advertisement
Observations
With the rate hike on December 16, 2015, central bankers outlined their positive view on the US economy. Their views would hold water if consumer spending remains robust. In light of falling exports, household spending will have a crucial role to play in keeping the US economy chugging along. A rate hike may reduce the demand for autos (GM) and other items for which consumers take loans, as loans would become more expensive due to the rate hike. However, the robust job market may help other segments of the consumer discretionary sector. If the economy remains on firm footing, investing in funds with a large non-luxury and high-end discretionary exposure would be beneficial.
Exposure to healthcare (MRK) has mostly been reduced over the course of 2015. This shows that fund managers have stopped being defensive with their investments. However, depending on where the economy goes from here, information technology and industrials (MMM) may continue to benefit. Strong returns from the latter, however, would require economic growth to be strong and global demand to nudge up in the latter half of 2016.
It is important to note that in the past three rate hike cycles since 1994, the consumer discretionary sector has fared poorly. One important difference, though, is that during those three cycles, inflation was either close to or breaching the 2% level. However, presently, inflation is not close to that level. Thus, it'll be interesting to see if consumer discretionary stocks keep doing well in spite of the rate hike. Industrials (GE) (FKGRX) have generally reacted positively to a rate hike. However, due to the slowdown in global growth, these stocks may find repeating this trend a challenge.
For more analysis on mutual funds, please visit our mutual fund analysis page.