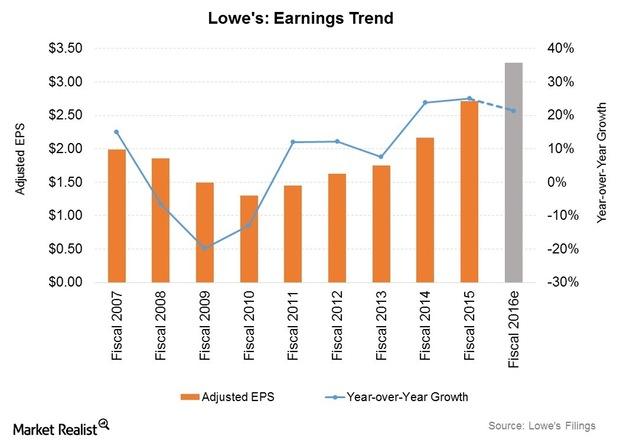 Why Lowe's Is Bullish on Its Prospects in the Medium Term
Lowe's annual guidance
Lowe's (LOW) expects year-over-year sales growth in fiscal 2016[1. Fiscal year ending January 29, 2016] to come in between 4.5%-5%, implying projected revenue of between $58.7 billion and $59.0 billion for full-year fiscal 2016. Fourth quarter sales are expected to grow between 3% and 5.2%. Lowe's fiscal 2016 guidance for diluted EPS (earnings per share) is $3.29, up 21.4% from $2.71 in fiscal 2015.
Article continues below advertisement
Sales growth drivers
Lowe's sales growth is expected to come via both higher same-store sales and unit growth. Same-store sales growth is projected to range between 4% to 4.5%. The company has also projected an increase of 15-20 stores to its global retail footprint.
Lowe's also anticipates a higher tax rate of 38.1% in fiscal 2016, up from 36.9% in fiscal 2015. This is expected to negatively impact earnings per share by $0.06[1. Guidance provided by Robert Hull, CFO of Lowe's].
How does Lowe's guidance compare with peers?
Lowe's has left guidance unchanged from what was provided last February. Williams-Sonoma (WSM), which declared earnings on November 19, has also left its full-year guidance unchanged. The company is expecting same-store sales growth to range between 4%-6% in fiscal 2016. Diluted EPS is expected to range between $3.36 and $3.45, up from $3.24 in fiscal 2015.
However, Home Depot (HD) has raised its same-store sales guidance to the high end of its projections range. HD is expecting same-store sales to come in at 4.9% in fiscal 2016. The company expects to post revenue growth of 5.7% in fiscal 2016, implying a sales number in the region of $88 billion in fiscal 2016.
Article continues below advertisement
Wall Street projections for Lowe's for fiscal 2016
Consensus Wall Street analyst estimates project Lowe's sales number at $58.9 billion for fiscal 2016, which is somewhat skewed towards the higher end of the company's guidance range. Adjusted EPS is expected to come in at $3.29, in-line with company estimates.
Medium-term outlook
Lowe's is also bullish about its prospects through 2017. Indicators like real personal income growth (XLY), home price (XHB) appreciation, and a buoyant home-buying market are likely to keep fundamentals strong in the home improvement retail (XRT) industry. Besides, Lowe's believes that spending on home improvement is outpacing overall consumer spending in the US, based on the results of an internal consumer sentiment survey carried out by the retailer.
For a detailed business overview of Home Depot, read our earlier series, Investing in Home Improvements: Your Guide to Home Depot.
For more sector updates and analysis, please visit our Consumer Discretionary page.