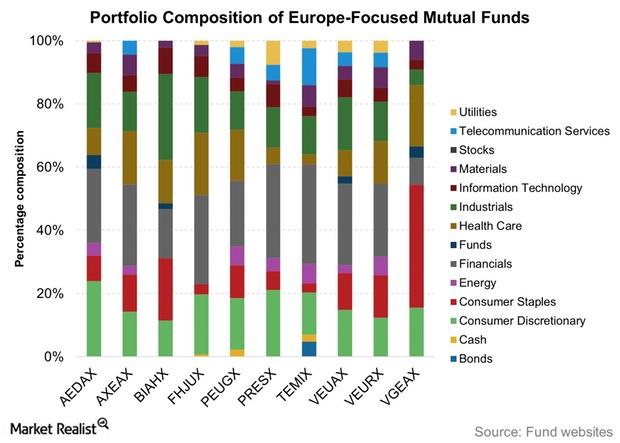 What Is the Outlook for Europe-Focused Mutual Funds?
By David Ashworth

Nov. 20 2020, Updated 4:44 p.m. ET
Europe-focused mutual funds
In this series, we have reviewed ten Europe-focused mutual funds in terms of their sectoral changes over the past year and the possible reasons for their performance in 2015. However, how does the overall portfolio position of these funds look? We've used the latest complete portfolios available to prepare the graph below.
Article continues below advertisement
Portfolio composition
The graph above provides a bird's eye view of what you're in for if you want to invest in any of these ten Europe-focused mutual funds.
Financials are generally the top choice for fund managers as far as sectoral exposure is concerned. Two funds, however, took a different path. The Brown Advisory – WMC Strategic European Equity Fund – Investor Shares (BIAHX) and the Virtus Greater European Opportunities Fund – Class A (VGEAX) have industrials and consumer staples stocks as their top sectoral bets, respectively.
The consumer staples sector presents an interesting picture. There are funds like TEMIX and FHJUX that are exceedingly underweight in the sector, and then there is the VGEAX, which counts staples as its biggest sector. Three of the ten funds (BIAHX, FHJUX, and VGEAX) have given the energy sector a miss.
A few of the funds like AEDAX have less exposure to consumer staples and have loaded up on healthcare stocks, preferring them as defensive picks. There are funds that have been heavy on both staples as well as healthcare like BIAHX and VGEAX, which gives them a defensive positioning. And then there are funds that are underweight compared to their peers in both sectors like PRESX and TEMIX, which are aggressively positioned.
Article continues below advertisement
Observations
A fall in energy prices along with worries emanating from China, have presented a fresh challenge to the ECB (European Central Bank). The negative impact of falling energy prices (AMFW) (E) (STO) on inflation in the region has forced central bankers to consider expanding their stimulus in March 2016. If this does come about, investors can expect stocks to witness a boost. An aggressive move will be favorable to stocks, but it will also show that Europe may remain at the fringes of recession, or even fall into one before things start getting better for the region.
The refugee crisis is also a factor to watch. Though as of now, most of the impact is considered to be political rather than economic, short-term economic strain is expected. We encourage investors to keep themselves informed about the region in order to arrive at informed opinions about the region in general and sectors in particular. Our analysis in this series will give you a broad idea of how different fund managers have performed within the same conditions, giving you an idea about their stock-picking abilities. This should help you narrow down your investment choices for Europe.
Market Realist published a similar analysis on US equity mutual funds earlier. For more analysis on mutual funds, please visit Market Realist's mutual funds page.