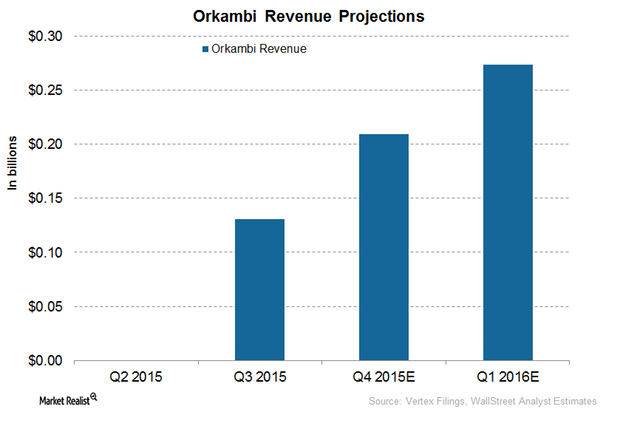 Orkambi: Recent Addition to the Vertex Portfolio
Is Orkambi a major revenue driver?
In July 2015, Vertex Pharmaceuticals' (VRTX) Orkambi received FDA (U.S. Food and Drug Administration) approval for treating cystic fibrosis (or CF) in the United States for patients who are 12 years and older with two copies of the F508del mutation. The drug is a combination of ivacaftor, which has the brand name Kalydeco, and a second drug lumacaftor.
CF is a rare, life-threatening genetic disease. It affects about 30,000 people in the United States. Of this total population, 8,500 is the target US population for the drug.
The graph above depicts estimated revenues from the sale of Orkambi. Wall Street analysts are expecting the drug to generate $209.5 million and $273.5 million during 4Q15 and 1Q16, respectively.
Article continues below advertisement
How much will Orkambi add to Vertex's top line?
In November 2015, Orkambi received approval from the European Commission to treat the same population set. Vertex will now have country-by-country pricing and reimbursement discussions in Europe. There are about 12,000 people in Europe who are 12 years and above and have two copies of the F508del mutation.
During the three months ended September 30, 2015, Orkambi added $130.8 million to Vertex's (VRTX) top line. For 2015, the drug is estimated to add $350 million. It's expected to be a blockbuster, annually putting more than $3 billion into Vertex's top line.
The drug costs $259,000 per year. The pricing strategy of the company is in line with peers such as Alexion Pharmaceuticals (ALXN), BioMarin (BMRN), and Shire (SHPG).
It's often risky to directly invest in a biotech company, as any news release for the success or failure of their drugs results in volatility in the stock price. To remain on the comparatively safer side, investors can choose the First Trust NYSE Arca Biotechnology ETF (FBT), which holds 3.2% of its total holdings in Vertex Pharmaceuticals stock.