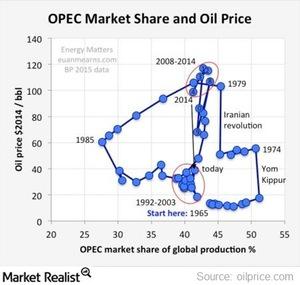 OPEC Might Not Cut Production: What Does It Mean?
By Rabindra Samanta

Jan. 7 2016, Updated 9:17 a.m. ET
Why OPEC might not cut production
OPEC's (Organization of the Petroleum Exporting Countries) outlook was released in December 2015. It included facts about diminishing oil demand by 2040. By 2040, oil might have alternatives. OPEC's members must plan to raise production in order to cash out the oil before the demand dries up. Since most of the Middle East economies depend on oil, they can't afford to keep high reserves in the future when the demand for oil isn't significant. Other non-OPEC energy exporting countries like Brazil (EWZ) and Russia (RSX) will be impacted as well. They might not cut their crude production either. It simply implies more oil in the market and lower crude oil prices. Gazprom PAO (OGZPY) and Lukoil (LUKOY) represent large-capped Russian ADRs (American depositary receipts). Petrobras (PBR) represents large-capped Brazilian ADRs in the oil and gas sector.
The above graph shows OPEC's market share until 2014.
Article continues below advertisement
OPEC and shale oil producer
Shale is abundantly available on the planet, although the technology isn't highly developed outside the US. OPEC's current price war with US shale oil producers is already backfiring. Shale oil producers are facing financial difficulties. The US is a net importer of crude oil. It might not stop producing shale oil. The shale oil producers are strategically important for the US to reduce its dependence on other oil exporters.
Crude is also associated with terrorism because most terrorist activities arise from the Middle East. Most of the developed and emerging economies are net importers of crude oil. As the crude supply becomes volatile, it also impacts their economies. In the next part, we'll discuss how renewable energy growth can intensify the geopolitical tension in the Middle East.