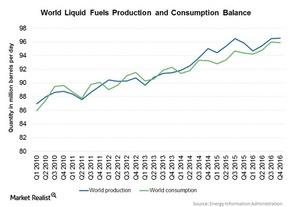 Oil Has Reason to Rebound as OPEC Tensions Rise
By Renee Blakely

Jan. 4 2016, Updated 2:25 p.m. ET
The latest in OPEC
Saudi Arabia and Iran are the two major oil-producing countries of OPEC (Organization of the Petroleum Exporting Countries). Tensions between them have escalated after Saudi Arabia carried out a mass execution on Saturday, January 2, 2016. The execution of 47 people convicted of terrorism included the killing of influential Shiite cleric Nemer al-Nemer.
Many countries around the world condemned the Shiite cleric's death. Iran had already warned Saudi Arabia that the death sentence against al-Nemer would create serious repercussions. Crowds in Iran are now calling for the downfall of the Saudi Arabian government in protest of the execution. These political, regional, and sectarian tensions in the Middle East might raise oil prices for a while due to a possible disruption in the oil supply.
Article continues below advertisement
Oil production and consumption dynamics
The following graph illustrates the production and consumption of liquid fuels in the world since 2010 along with data projected for 2016.

As we can see in the graph, during the first half of 2012, liquid fuel production surpassed the world's consumption. It repeated that in 2014 when production levels crossed consumption levels. The pattern continued in 2015 and was responsible for the oil price slump.
The following factors were responsible for the fall in consumption of fuels in 2015:
The slowdown in China's economic activity led to the fall in demand for fuel in the country. China is the second largest consumer of fuel in the world, so any contraction in its economic activity has a direct impact on oil consumption just as it impacts the business activity of various nations.
There was a slowdown in manufacturing and economic activities in the Eurozone and the United States.
To some extent, the transition to alternate sources of energy led to a drop in the use of liquid fuels.
Stocks of oil- and gas-producing companies such as Southwestern Energy (SWN), Chesapeake Energy (CHK), QEP Resources (QEP), Marathon Oil (MRO), and Cabot Oil & Gas (COG) were hit to a large extent. The Energy Select Sector SPDR ETF (XLE) also had a bumpy ride in 2015.