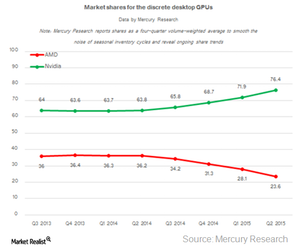 Nvidia Snags AMD's Share in the Gaming Market
By Puja Tayal

Jan. 19 2016, Updated 11:06 a.m. ET
Nvidia versus AMD
In the previous part of this series, we saw that Advanced Micro Devices (AMD) and Intel (INTC) have a duopoly in the PC processors and server space. A similar trend exists in the gaming segment, where Nvidia (NVDA) is taking over market share from AMD.
Article continues below advertisement
Market share
According to Mercury Research, AMD started losing its share to Nvidia in the discrete desktop GPU (graphic processing unit) market from the second half of 2014. As can be seen from the above graph, Nvidia ate up AMD's market share, with Nvidia holding a 76.4% share against AMD's 23.6% share.
However, AMD started bracing to acquire its lost share in the GPU market. In 2015, Nvidia released four new GPUs, while AMD released three—the Radeon R9 Fury X, Fury, and Nano. According to Jon Peddie Research, the 3Q15 saw a reversal in the market, with AMD's share in the discrete GPU market rising to 18.8% from 18.0% in 2Q15, while Nvidia's share fell to 81.1% from 81.9% in 2Q15.
Cause for gap in market share 
AMD and Nvidia have been competitive and whenever AMD sees its chips are losing value, it implements price cuts. Despite this, AMD started losing market share to Nvidia due to two reasons—efficiency and features.
Efficiency: As Nvidia focuses purely on GPU, it has been quick to implement new architecture updates, making its chips faster and more efficient. AMD's resources were divided between CPU (central processing unit) and GPU, making its upgrade slower than Nvidia.
Features: Nvidia has been consistent in adding new features such as GeForce Experience, ShadowPlay game recording, and G-Sync. AMD is catching up by introducing features such as FreeSync and its game bundling program, Never Settle.
Earlier in 2015, Nvidia partnered with Samsung (SSNLF) to build GPUs on the 14nm FinFET (fin-shaped field effect transistor). AMD followed by partnering with Samsung in December 2015 for a 14nm FinFET.
Financial position
Another major challenge that has been preventing AMD (with $5.5 billion in revenue in 2014) to pose tough competition to Nvidia (with $4.7 billion in revenue in 2014) is its financial position. AMD has high debt and low cash as compared to Nvidia. Limited cash makes it difficult for AMD to invest a sufficient amount in research and development.
The PowerShares QQQ ETF (QQQ) has more than 8.0% exposure in the semiconductor market, with a 3.19% holding in INTC and 0.34% in NVDA.