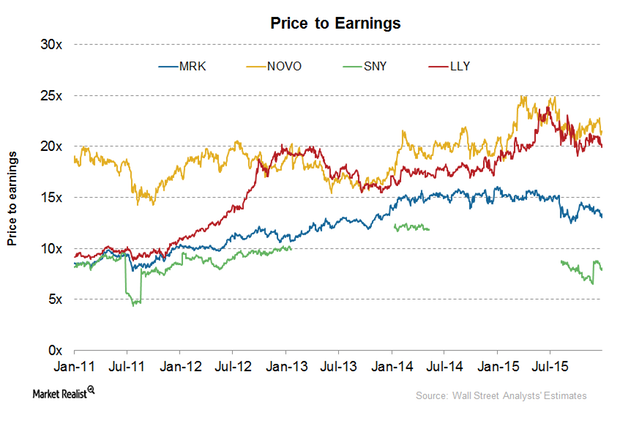 Is Novo Nordisk Trading at a Discount or Premium?
By Jillian Dabney

Dec. 4 2020, Updated 10:53 a.m. ET
Valuation for Novo Nordisk
For the last five years, Novo Nordisk (NVO) has been trading at higher multiples when compared with peers. Since 2011, the price-to-earnings (or PE) multiple of Novo has ranged from 14x to 25x.
The graph above shows the current PE ratio of Novo Nordisk in comparison with peers such as Merck (MRK), Eli Lilly (LLY), and Sanofi (SNY).
Article continues below advertisement
Relative valuation versus discounted cash flow method
Common techniques for valuing a company include discounted cash flow method (or DCF), relative valuation (or RV), and the economic value added method. The relative transaction multiple is the preferred method for valuing a mature or growing company with sustained earnings.
However, when a particular biotech company is in an early growth phase, it becomes difficult to compare such a company with any other biotech companies. In such a case, comparing the multiples doesn't generate a feasible outcome. DCF is preferred here, as it factors the growth prospects of the company in terms of estimated free cash flows. However, this methodology requires a number of inputs based on analyst assumptions. An error in any input results in incorrect valuation.
We have used the relative valuation technique to analyze the performance of Novo Nordisk, as the company has sustained earnings.
For relative valuation, we have chosen Merck & Co, Eli Lilly, and Sanofi as competitors for Novo. These companies have diversified portfolios. However, they do have significant exposure to the therapeutic area of the diabetic field. When compared with Merck and Sanofi, Novo is clearly trading at higher PE multiples. Such higher multiples indicate the premium that Novo has gained, possibly on account of continuous innovative product launches coupled with a promising pipeline.
It is often risky to directly invest in a biotech company, as any news release regarding drug success or failure results in stock price volatility. Thus, to remain on a comparatively safer side, investors can choose the PowerShares International Dividend Achievers Portfolio (PID), which holds 0.52% of its total holdings in Novo Nordisk stock.