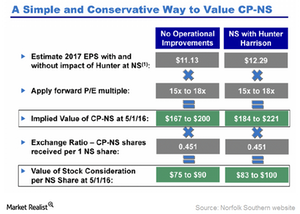 Why Was Norfolk Southern on Canadian Pacific's Radar?
By Samuel Prince

Jan. 14 2016, Updated 6:48 a.m. ET
High operating expenses
In the previous part of this series, we went over the details of the preliminary offer by Canadian Pacific (CP) to Norfolk Southern (NSC). In this part, we'll look at why CP is interested in NSC.
The operating ratio is a metric used to gauge a railroad's operating efficiency. NSC has a significant operating ratio among the major Class I railroads, with 69.2% in 2014. To contrast, operating ratios among the peer group were as follows:
Article continues below advertisement
This peer group forms 7.8% of the Industrial Select Sector SPDR ETF (XLI). To reduce its operating costs, NSC is looking at options ranging from dumping its no-growth lines to reducing its coal assets. NSC derives 17% of its revenues from the coal business, the highest percentage among all peers but CSX Corporation.
NSC has a large number of recreational plantations, locomotive workshops, and classification yards. With shrinking coal revenue prospects, the company has recently started deploying coal locomotives on more profitable lines.
Norfolk Southern's present management
After Norfolk Southern's legendary chairman and CEO Wick Moorman retired in late 2015, James Squires became chairman and CEO. Wick Moorman was at Norfolk for more than 40 years. Squires joined Norfolk in 1992. Whereas Squires' experience is mostly financial and legal, Hunter Harrison is a hard-core railroader whose prowess rests on operations.
Hunter Harrison: The maverick who transformed CP
After taking charge at Canadian Pacific in 2012 at the request of activist investor William Ackman, Hunter Harrison became a famous figure in the North American railroad industry. With his measures to drive efficiency and effective asset utilization policies, CP's operating ratio has been reduced substantially during his tenure. In the most recent quarter of 2015, CP recorded an operating ratio of 59.9%, its lowest in history. Hunter Harrison is credited with revamping CP and creating wealth for its stakeholders.
The Chicago transportation hub is a major US rail hub. All major railroads converge at Chicago. Furthermore, the city serves as an interchange point for NSC and CP. In the next part of this series, we'll discuss the importance of Chicago.