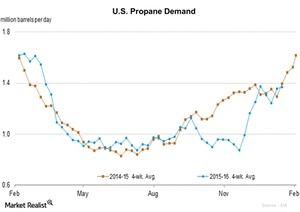 NOOA Forecasts Mild Weather, but Will Propane Demand Slide Further?
By Manu Milan

Jan. 22 2016, Published 5:00 p.m. ET
The EIA's word on propane demand
The EIA's (US Energy Information Administration) weekly propane and heating oil update released on January 21, 2016, reported that US residential propane demand was at 1.03 MMbpd (million barrels per day) for the week ending January 15. As of that week, propane demand was 0.39 MMbpd less than the prior week's demand and 0.28 MMbpd less than the demand during the corresponding period in 2015.
Article continues below advertisement
Charting propane prices as of January 18
US residential propane prices averaged nearly $2.02 per gallon on January 18, which is not quite $0.01 per gallon higher than prices were on January 11, 2016, and $0.36 per gallon, or 15.3%, lower than propane prices in the corresponding period in 2015.
Mild weather impacted propane demand
Propane demand declined for the week ending January 11 due to higher-than-normal temperatures in the West and most of other US regions where propane is used as heating oil. But propane demand is expected to fall further as the NOOA (National Oceanic and Atmospheric Administration) forecasted above-normal temperatures for this week as well as for the next week, which would likely pull back propane demand.
The price of propane, however, is almost stable with a slight recovery, as propane prices were below $2 per gallon in the first week of January 2016. The colder temperatures in the second week of January 2016 pushed propane prices up some. Due to price correction propane prices were stable this week, but in coming weeks, prices are expected to fall due to mild weather forecasts.
The forecasts of above-normal temperatures in the Western Rockies region and in most US regions where propane is used could drag propane demand down and impact propane prices further. In this sense, any fall in propane prices will have an adverse impact on the revenues of the propane producers and distributors like NGL Energy Partners (NGL), AmeriGas Partners (APU), Suburban Propane (SPH), and Ferrellgas Partners (FGP). Notably, APU accounts for 1.4% of the First Trust North American Energy Infrastructure ETF (EMLP).
In the next and final part of this series, we'll move our discussion toward jet fuel imports.