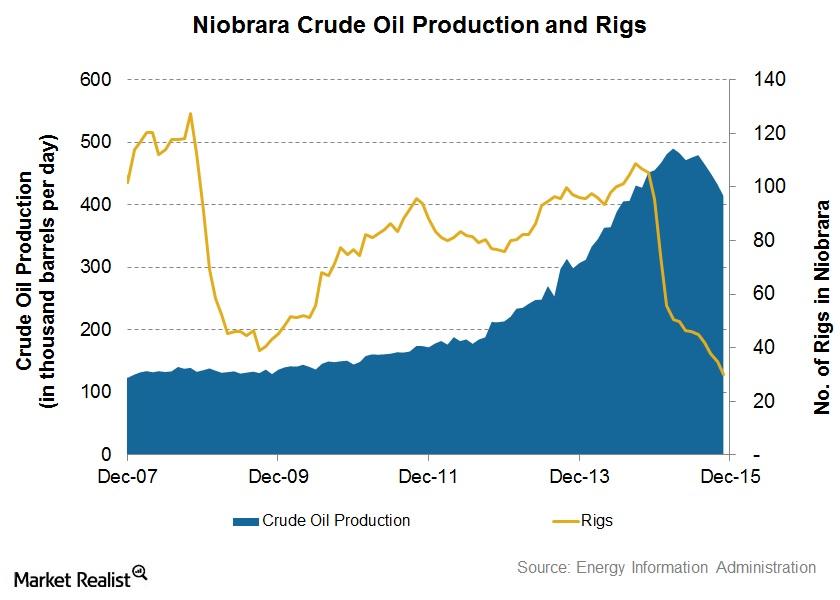 Niobrara December Crude Oil Production Fell the Most in 2015
By Alex Chamberlin

Jan. 25 2016, Updated 7:05 a.m. ET
Niobrara crude oil production
The EIA (U.S. Energy Information Administration) released its Drilling Productivity Report on January 11, 2016. The report estimates that the Niobrara Shale produced 414,500 barrels of crude oil per day in December 2015. This is 4.3% less than production in November 2015 and 8% less than production a year ago.
Month-over-month, Niobrara's December 2015 fall in crude oil production is its fourth consecutive fall. It saw the largest fall in monthly production in 2015.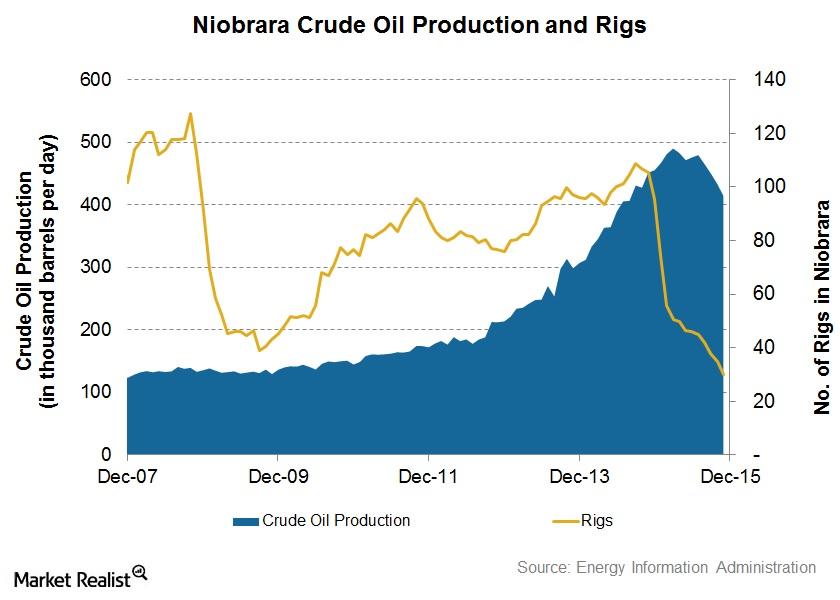 The Niobrara Shale oil production rose from 13,400 bpd (barrels per day) in December 2007 to ~414,500 bpd in December 2015. This is a rise of 236% in eight years.
Article continues below advertisement
Niobrara Shale's natural gas production
In December 2015, the Niobrara Shale's natural gas production fell 60.2 MMcf (million cubic feet) per day compared to production in the previous month. This follows a 43.9 MMcf per day fall in November 2015 compared to October 2015. Natural gas production at the Niobrara Shale rose from 4.0 Bcf (billion cubic feet) per day in December 2007 to ~4.2 Bcf per day in December 2015. That's a ~6% increase.
Active rigs
The number of rigs working at Niobrara fell by three to 30 in December 2015 compared to the previous month. A year ago, there were 106 drilling rigs in the region.
The EIA calculates that the additional Niobrara Shale crude oil production per rig in December 2015 increased 53% since December 2014. The additional production per rig has risen by 20x in the past eight years. The Niobrara Shale in Colorado and Wyoming was one of the fastest-growing oil-producing regions in the United States before the recent fall.
What this means for OFS companies
Lower rig count and energy production in the past one year reduced OFS (oilfield service) companies' revenues and profits. Rig equipment makers and rig-related technology service providers include Schlumberger (SLB), Halliburton (HAL), Superior Energy Services (SPN), and Core Laboratories (CLB). OFS companies may continue to lose revenues and profits if drilling activities in the Niobrara Shale fall. HAL makes up 0.16% of the SPDR S&P 500 ETF (SPY), which has 6.3% exposure to the energy sector.
In the next part, we'll take a look at natural gas production at the Marcellus Shale.