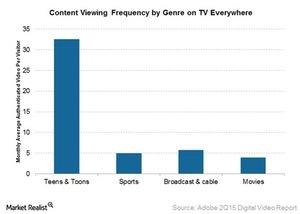 Netflix Is Exploring Different Genres of Programming
Original movies
As Netflix (NFLX) faces increasing competition from other video streaming providers in the United States, the company is exploring different genres of programming. The company considers it worthwhile to produce original movies. However, Netflix's first original movie, Beasts of No Nation, did not earn a spot in the Oscar nomination list announced on January 14, 2016.
However, Beasts of No Nation actor Idris Elba did get a Golden Globe nomination for Best Supporting Actor last year. Beasts of No Nation, the company's first original movie production, premiered on Netflix and in theaters in October last year. The film garnered critical acclaim.
Netflix has also signed a deal to produce four movies with Adam Sandler. The first, The Ridiculous 6, debuted in early December 2015. Netflix reports that 33% of its subscribers prefer watching movies on Netflix. However, most of the movies on Netflix are at least ten months old.
Article continues below advertisement
Although movie production is an expensive business, Netflix believes it is still worthwhile to spend $1 billion on producing original movies rather than spending the same amount of money on buying SVOD (subscription video on demand) rights from movie studios. Netflix currently has ten original films in production that should be released by the end of 2016.
Netflix believes that by producing original movies and releasing them simultaneously in theaters and on Netflix, it is offering its subscribers the latest movies with quality content. This differentiates its product from that of its competitors.
Kids' programming
As of 4Q15, the company offered 30 original series for kids. Netflix has stated that around 50% of the households subscribing to Netflix on a global basis are watching kids' programming regularly. Netflix is investing heavily in legacy cartoons such as Popples and Glitter Force, which it considers to be important toy and entertainment brands.
The "Teens & Toons" genre is quickly gaining in popularity among viewers. According to Adobe's (ADBE) 2Q15 Digital Video Benchmark report, an average of 32.5 authenticated "Teens & Toons" videos were viewed per visitor per month on TV Everywhere devices such as Apple (AAPL) TV. This trend is illustrated in the above chart.
Sports programming
Netflix has not ruled out sports programming entirely, but the company does not consider it as attractive as news programming. It does not see the on-demand streaming of sports to be as exciting for the viewer as watching sporting events live. Also, sports broadcasting rights are an expensive business.
Netflix makes up 0.97% of the PowerShares QQQ Trust Series 1 ETF (QQQ). QQQ also holds 8.9% of Microsoft (MSFT). For an investor interested in exposure to the television and radio sector, QQQ has an exposure of 4.5% to that space.