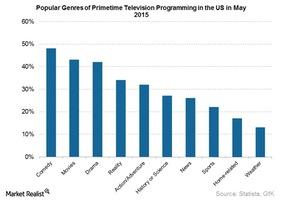 Netflix Explores Different Genres of Programming in 2016
By Shirley Pelts

Jan. 26 2016, Updated 1:32 p.m. ET
Netflix's emphasis on family programming
In the previous part of this series, we learned about Netflix's (NFLX) ramping up of its original programming in 2016. Netflix's original programming is reaping rewards this awards season. The company is also exploring different genres with its original programming.
Netflix stated in an interview with Benjamin Swinburne from Morgan Stanley (MS) and Peter Kafka from Re/code on January 19, 2016, that it doesn't want to be known only for its adult dramas and comedies, but also for its programming intended for the family as a whole.
The company is placing a particular emphasis on family programming, including shows such as Fuller House, Unbreakable Kimmy Schmidt, and Stranger Things.
In international markets, the company is also increasing its focus on original content in local languages. For example, Netflix is producing a political drama called Marseille in France (EWQ).
Article continues below advertisement
News programming
Netflix is exploring the news genre by streaming a weekly talk show hosted by Chelsea Handler. However, Netflix has ruled out specific news-based shows that involve news gathering, as it does not foresee such shows fitting into its streaming business model. Netflix is exploring new content types because it wants to boost its subscriber base by providing varied programming to its users.
Sports programming
Netflix has stayed away from sports programming but has not ruled it out entirely. However, the company doesn't consider it to be as attractive an opportunity as news programming. Netflix stated earlier that it would be interested in a business model where it could create its own sports league.
As the chart above indicates, according to a Statista report citing a GfK report from May 2015, the most popular television programming genre in the United States remains sitcom, or comedy.
While the programming genres being explored by Netflix enjoy relatively large popularity, they are also indicative of Netflix's intention to be a serious alternative to linear television networks by offering different genres of programming for its subscribers.
Kids' programming
Netflix stated at a UBS (UBS) conference late in 2015 that according to its internal data, around 50% of households subscribing to Netflix on a global basis are watching kids' programming regularly. The company is producing around 35 original series for kids.
Netflix makes up 0.44% of the iShares Russell 1000 Growth Index ETF (IWF). If you're interested in exposure to the computers sector, IWF has ~6% exposure to that space. IWF also holds 2.4% of Microsoft (MSFT).