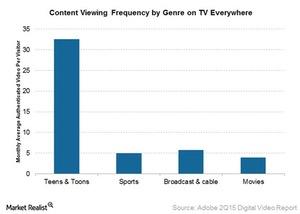 Netflix Explored New Content Genres in 2015
Sports and news programming
Netflix (NFLX) explored new content genres in 2015. Netflix has stayed away from sports programming but has not ruled it out entirely. However, Netflix does not consider it to be as attractive an opportunity as news programming. However, Netflix has stated that it would be interested in a business model where it could create its own sports league.
Netflix plans to explore the news genre by early 2016 when it expects to stream a weekly talk show hosted by Chelsea Handler. However, Netflix has ruled out specific news-based shows that involve news gathering, as it does not foresee such shows fitting into the company's streaming business model. Netflix is exploring new content types because it wants to boost its subscriber base by providing varied programming to its users.
Article continues below advertisement
Kids' programming
Through the end of 2015, Netflix offered around 30 original series for kids. However, in a bid to widen its subscriber base and to appeal to a diverse audience with its content, Netflix has started exploring different programming genres.
The Teens and Toons genre is quickly gaining in popularity among viewers. According to a 2Q15 Adobe (ADBE) Digital Video Benchmark report, an average of 32.5 authenticated Teens and Toons videos per visitor per month were viewed on an authenticated streaming service on a TV Everywhere device like Apple (AAPL) TV. This trend is illustrated in the above chart.
Why Netflix is looking at kids' programming
The rising popularity of kids' programming on authenticated streaming services like Viacom's (VIAB) Nickelodeon Nick Jr. app could have prompted Netflix to look at kids' programming on its streaming service. Netflix stated at the UBS conference that according to its internal data, around 50% of the households subscribing to Netflix on a global basis are watching kids' programming regularly.
Netflix is investing heavily in legacy cartoons such as Popples and Glitter Force, which it considers to be important toy and entertainment brands. This is advantageous for media companies who license their kids' programming to Netflix. Children watching a cartoon on Netflix are also likely to want to buy a licensed toy or other product related to the cartoon.
Netflix makes up 0.45% of the iShares Russell 1000 Growth Index ETF (IWF). For an investor interested in getting exposure to the information technology services, IWF has an exposure of 49.06% to that sector.