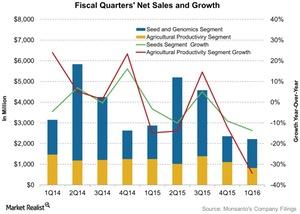 Monsanto's Sales Growth Tells a Grim Tale of Agricultural Sector
By Adam Jones

Jan. 13 2016, Updated 3:50 a.m. ET
Net sales
About 63% of Monsanto's net sales comes from its seed and genomics segment while the rest comes from the agricultural productivity segment. Under the seeds and genomics segment, the corn seed and traits sales accounted for 53% of net sales followed by soybean and traits, which accounted for 31% of net sales in fiscal 1Q16.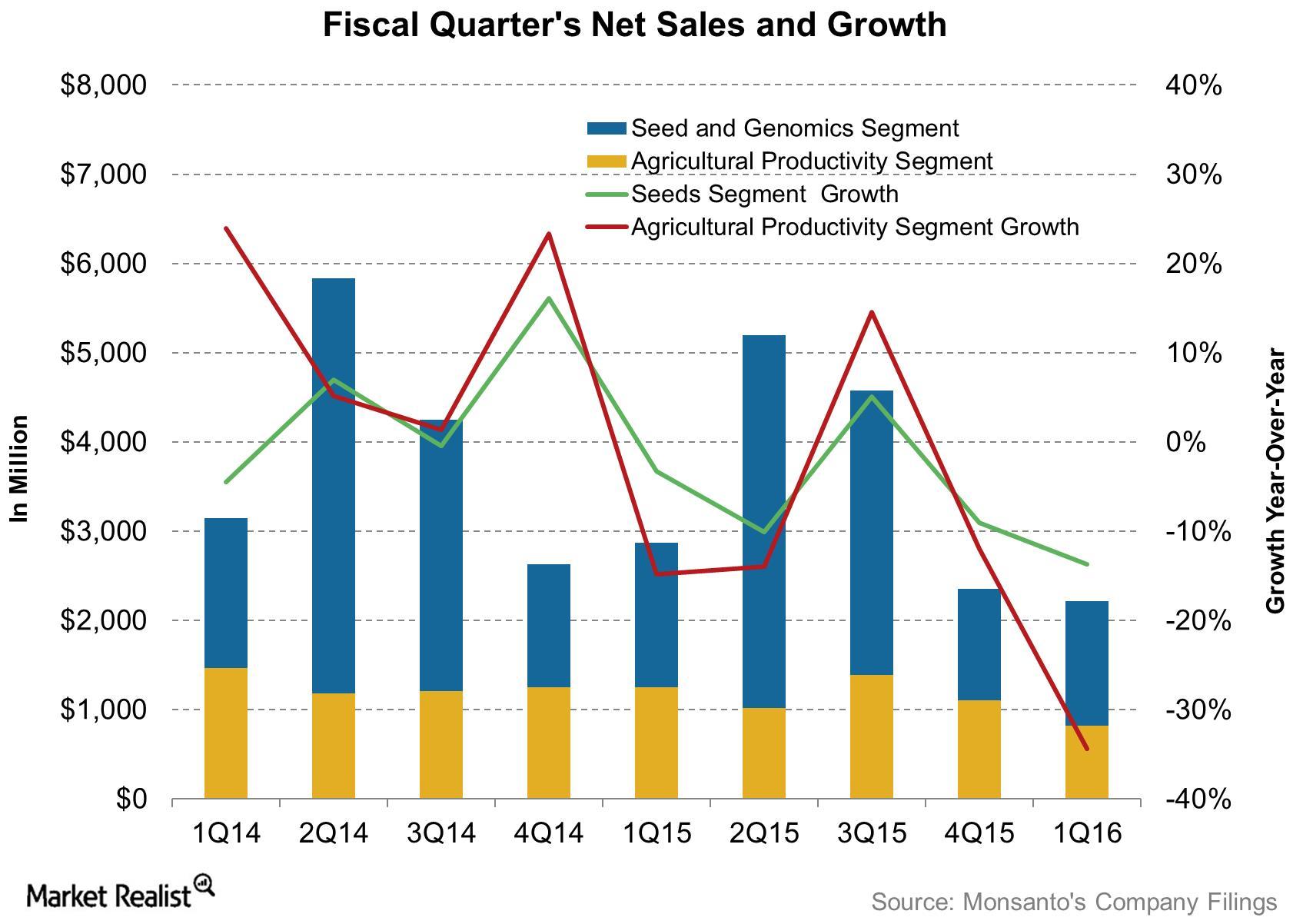 Article continues below advertisement
Seasonal business
Most of Monsanto's (MON) sales are seasonal. This is why it is important to look at YoY (year-over-year) growth. This is around the time when farmers refill their seed inventories right before the planting season, which takes place between March and June. Thus, the most recent fiscal 1Q16 quarter will have a relatively lower sales volume.
Overall net sales in 1Q16 fell to $2.2 billion, a 23% decline from $2.8 billion in the corresponding quarter a year ago. Seed and genomics sales fell 14% to $1.4 billion YoY (year-over-year) while the agricultural productivity segment fell 34% to $0.8 billion over the same period.
You can also access Monsanto through the Market Vector Agribusiness ETF (MOO). MOO has about 16% of its holdings in Monsanto and Syngenta (SYT) combined. MOO also holds fertilizer giants such as Potash Corporation (POT) and Mosaic (MOS).
Why net sales declined
Monsanto anticipated the YoY decline in the seed and genomics segment, which was evident in the management's curtailed production plans for 2015 compared to 2014. The curtailment was a result of an anticipated reduction in planted acres in light of falling commodity prices. According to the USDA, planted acreage for corn in 2015 was down 2% from 2014, cotton acreage was down 18%, and wheat acreage was down 1%. This decline was somewhat offset by the sale of Intacta in Brazil. Intacta is a soybean seed genetically modified to protect itself against worms, according to the company.
Net sales for the agricultural productivity segment were lower as a result of lower prices for glyphosate-related herbicides. The company stated, "we saw the tough comparison we expected in the first quarter results with generic prices down significantly versus the prior year." Also, currency headwinds added to the downtrend. Together, the prices were down by as much as 20%, according to the management.
Next, we will discuss gross margins for Monsanto and discuss the management's outlook.