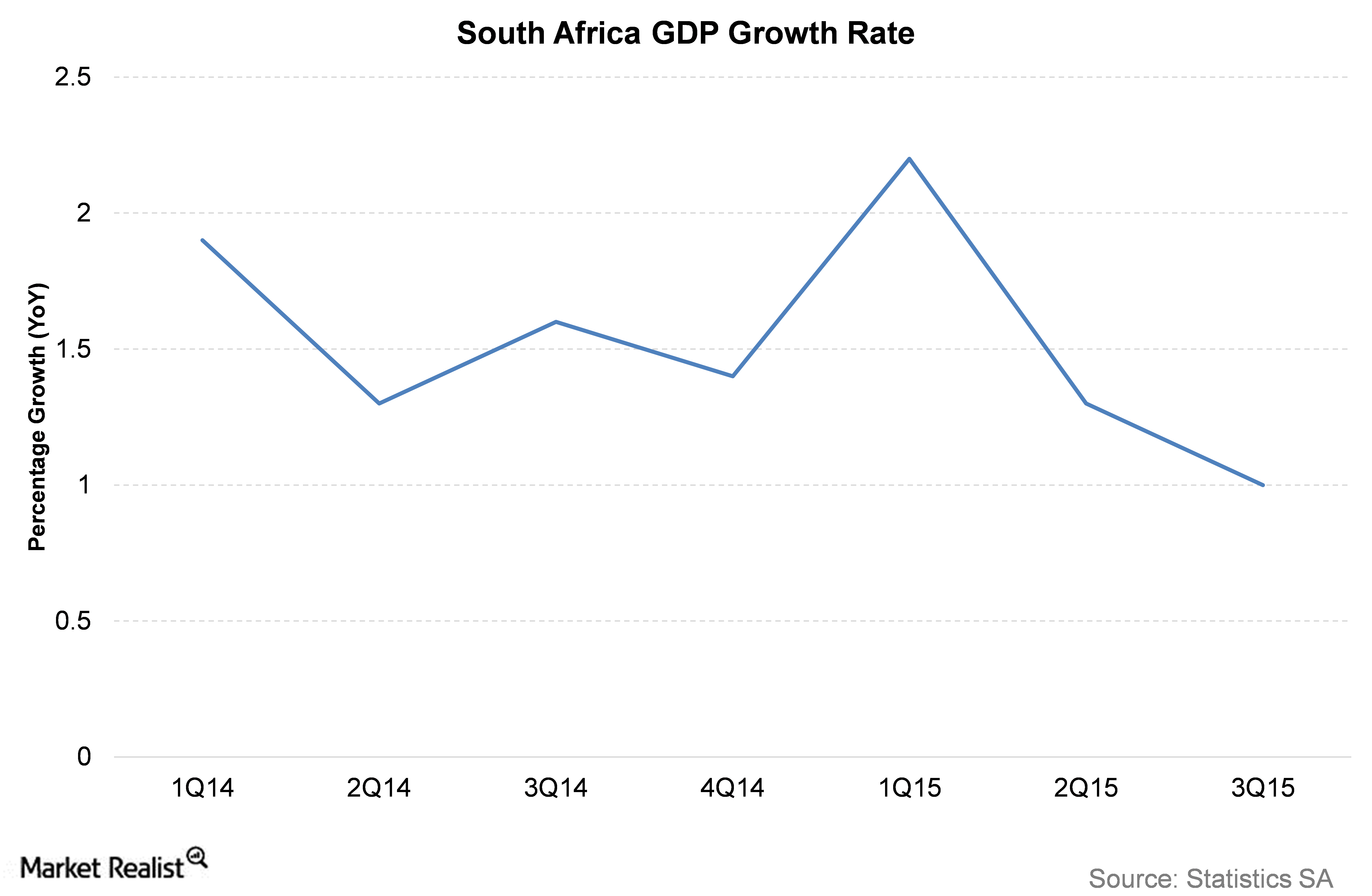 Mining and Agriculture Sectors Distressed in South Africa
By Pete Raine

Jan. 18 2016, Published 9:34 a.m. ET
GDP growth rate in 2015
South Africa's GDP (gross domestic product) growth rate after 3Q15 was 1% year-over-year. This is the country's lowest quarterly growth rate in the last three years. The quarter-over-quarter growth was 0.7% in the same period. In this part of our series, we'll analyze the reason for the slow growth rate and also the sectors that contributed to the slow growth.
In the graph above, you can see the country's year-over-year quarterly growth rate of 2014 and 2015. Although the growth rate fell sharply in 2Q15 and 3Q15, the manufacturing sector emerged as a major positive contributor in 3Q15. It grew by 6.2% in sharp contrast to the same period a year ago, where its growth was -1%. On the other hand, finance, real estate, and business services registered an improved growth rate in all three quarters of 2015 as compared to 2014.
Article continues below advertisement
What led to the fall?
The chart above shows the quarter-over-quarter growth rates of the three sectors, namely agriculture, mining (AU) (GFI), and finance. The agriculture sector witnessed a steep fall in 2015. South Africa is on the verge of drought, and that has taken a toll on the agricultural industry. The mining and quarrying industry also witnessed sharp falls. Falling commodity prices globally and weakened demand can be the reasons for the falls. Also, shortage in electricity (SSL) generation and transmission aggravated the situation.
The adverse effect of the weakening of economy was seen in Africa-focused funds. For example, the Commonwealth Africa Fund (CAFRX), with an exposure of ~80% of its portfolio in South African companies, returned -26.2% in 2015. Similarly, the T. Rowe Price Africa & Middle East Fund (TRAMX) returned a loss of 19.3% in 2015. The Nile Pan Africa Fund – Class A (NAFAX) also fared poorly and returned a loss of about 20%.
In the next article, we'll look at the unemployment scenario in South Africa.