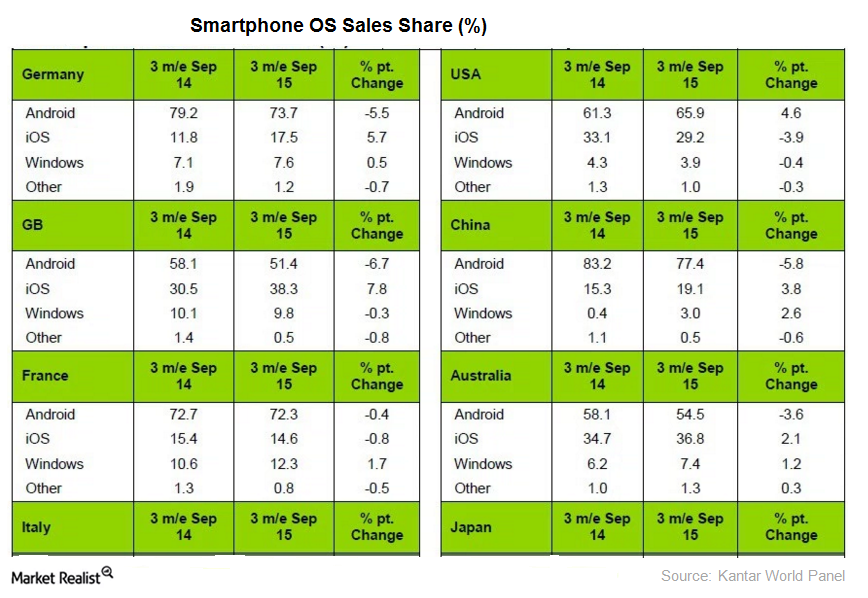 Microsoft's Joint Venture in China: Impact on Revenue Growth
By Anne Shields

Jan. 5 2016, Updated 5:53 a.m. ET
Windows smartphone sales share shows improvement in China
So far in this series, we discussed Microsoft's (MSFT) recent steps to accelerate Windows 10 adoption in China (YINN) and develop a relationship with the country. It's clear that Microsoft is quite desperate to make a mark in China.
If we look at Kantar's sales share report for September 2015, performance of Windows smartphones has been mixed. As the above chart shows, though Microsoft's Windows smartphone sales share fell slightly in Europe (EFA), it increased in the United States and China on a month-over-month basis. Google's (GOOG) Android and Apple's (AAPL) iOS continue to be dominant players in the smartphone space.
Article continues below advertisement
Joint venture will curb piracy
After banning Windows 8, China's government took measures to reduce its dependence on Windows. It developed its own OS (operating system), NeoKylin, as a replacement for Microsoft Windows. The preference for NeoKylin is demonstrated by the fact that Dell sold a considerable number of computers in China with NeoKylin pre-installed.
As is the case with emerging countries, the majority of people in China use pirated versions of Windows. According to BSA, the anti-piracy lobby group, emerging markets account for between 56% and 73% of all PCs (personal computers) in use, as well as software piracy. Microsoft doesn't just lose revenue from piracy, but also access to customers who might have bought add-on Microsoft products.
If Microsoft's joint venture with CETC (China Electronics Technology Group) gets approval, the majority of China's organizations would use a licensed Windows 10 OS, as well as Office 365 or Office 2016, which would boost Microsoft's revenue growth significantly.