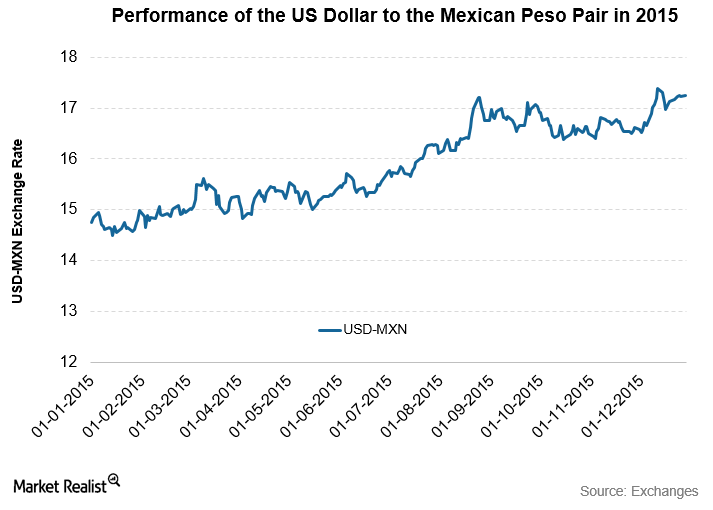 Mexican Peso's Fortunes Are Linked to the US Dollar
By David Meyer

Jan. 4 2016, Published 12:13 p.m. ET
Mexican peso should follow the US dollar in 2016
The Mexican peso and US dollar are interconnected. The Mexican economy depends on the US. Bullish forecasts for the US dollar in 2016 mean that there are high expectations for the Mexican peso in the coming year. The US dollar-Mexican peso pair might remain relatively stable because the dollar is also expected to appreciate. It's expected that there will be levels of 16.50 in the currency pair by mid-2016. The Mexican peso is expected to strengthen against other major currencies like the euro and pound. Another major reason for the Mexican peso's relation to the US dollar is the Banco de Mexico's decision to follow the US Fed's lead. In December, the Mexican central bank followed the cue from the Fed. It raised the benchmark rate by 25 basis points.
Article continues below advertisement
Stable inflation and risk of capital outflow
One of the major positives for the Mexican peso is the relatively strong inflation outlook. Mexico is the only Latin American country with falling inflation. It places the Mexican central bank in a position of strength compared to the neighboring countries. The risk posed by the possibility of capital outflow is one of the few factors that can cause negativity for the peso. The amount of private investment in Mexico is relatively higher compared to Latin American peers. Any kind of global issue or crisis could see these hefty investments unwind. It will be a problem for the currency.
ETFs and ADRs that could be affected
From January 2, 2015, to December 28, 2015, the iShares MSCI Mexico Capped ETF (EWW) fell by 12.1%. The iShares Latin America 40 ETF (ILF) followed a similar trajectory. It fell by 29.0%.
Latin America ADRs (American depositary receipts) trading in the US markets ended the year on a negative note. Beverage company Coca-Cola Femsa SAB de CV (KOF) fell by 15.6%. Media group Grupo Televisa SA (TV) and construction company Cemex SAB de CV (CX) fell by 17.2% and 42.7%, respectively.