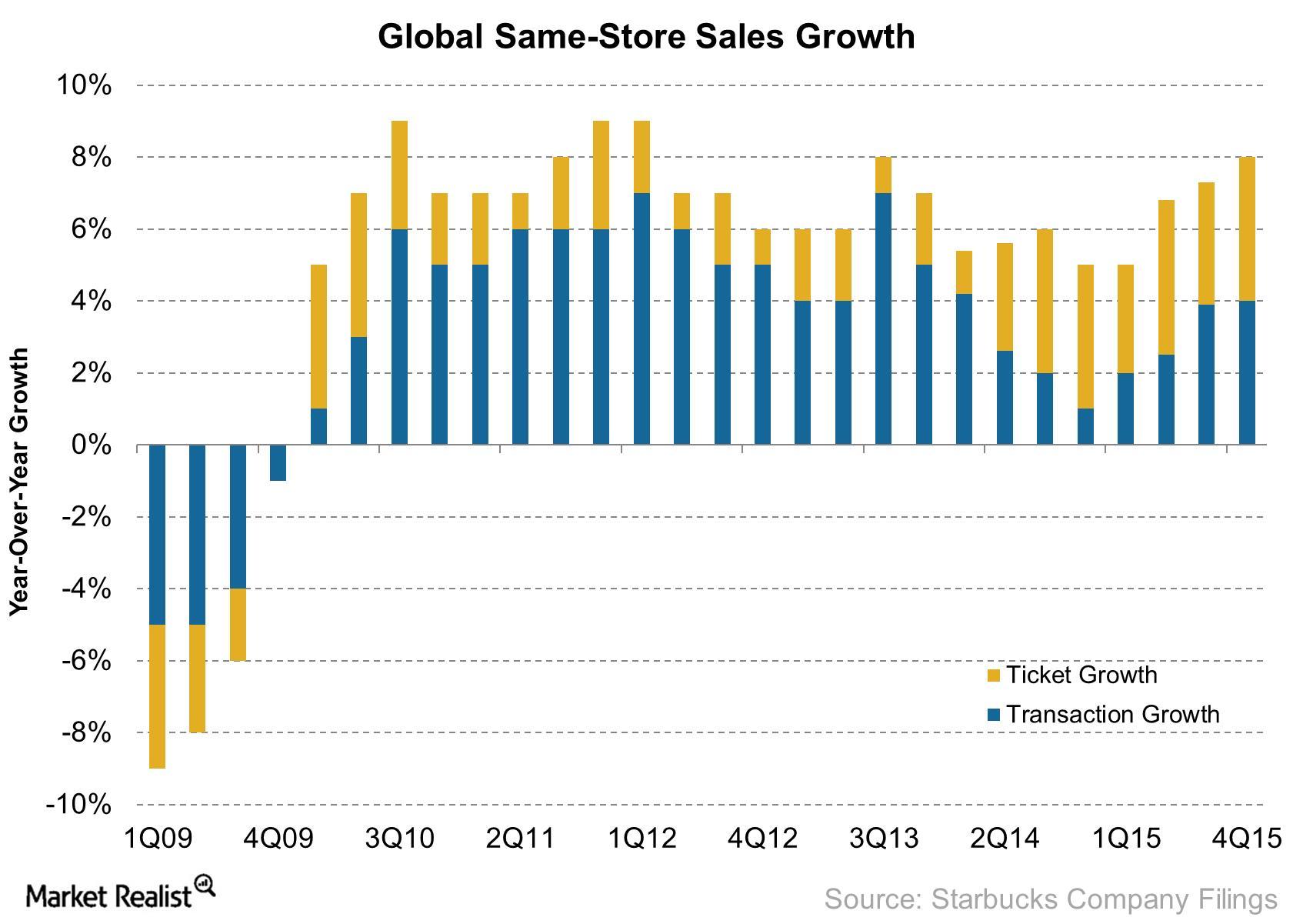 What Could Drive Starbucks's Same-Store Sales Growth in 2016?
By Adam Jones

Dec. 4 2020, Updated 10:53 a.m. ET
Same-store sales growth drivers
Previously, we saw that Starbucks's (SBUX) global same-store sales growth is expected to rise in 1Q16. We also saw that the factors that drive that growth have two components: average check growth and traffic growth.
An alternative way to gain exposure in Starbucks is through ETFs such as the Consumer Discretionary Select Sector SPDR ETF (XLY), which invests about 4% in Starbucks.
Article continues below advertisement
What's driving the growth?
Over the past four quarters, Starbucks's same-store sales growth has increased due to growth in both ticket (average check) and traffic (transactions). In other words, Starbucks all around the world was able to attract more customers into its doors in 2015 as well as increase the amount of its average check compared to 2014.
The Americas
The Americas segment contributed the most toward Starbucks's average check, especially the US market. The US market saw an average check increase of 4% in 2015, while transactions increased 3%. In a mature market such as the United States where Starbucks has a heavy presence, growth in same-store sales through transactions is very positive, especially when companies such as McDonald's (MCD), Yum! Brands (YUM), and Panera Bread (PNRA) are struggling.
The CAP division
The CAP (China, Asia-Pacific) division was Starbucks's biggest contributor to same-store sales growth in 2015 through an 8% transaction growth. In 2016, transaction growth is expected to continue and contribute to the company's same-store sales growth as opposed to ticket growth. In its annual filing, Starbucks management stated, "In fiscal 2016, we also expect China to continue to move towards being one of our largest international markets, primarily driven by expanding our retail store presence and increasing transaction growth."