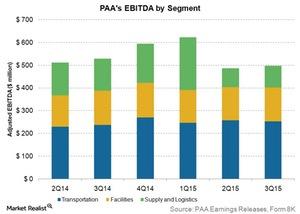 Market Dynamics Impact Plains All American's Supply and Logistics Segment
By Rekha Khandelwal, CFA

Jan. 19 2016, Published 3:57 p.m. ET
Plains All American Pipeline's three core segments
Plains All American Pipeline (PAA) operates under the following three segments:
Transportation
Facilities
Supply and Logistics
The company's Transportation segment contributed about half of the company's total adjusted EBITDA (earnings before interest, taxes, depreciation, and amortization) in 3Q15, whereas its Facilities segment contributed approximately 30% of the company's total adjusted EBITDA in the same period.
Plains All American's Transportation segment transports crude oil and NGLs (natural gas liquids). This is done through pipelines, trucks, and barges. Other MLPs (master limited partnerships) involved in crude oil transport include the following industry heavy hitters:
Article continues below advertisement
Plains All American Facilities segment
Plains All American's Facilities segment provides storage, terminals, and throughput services for crude oil, NGLs, natural gas, and refined products. The segment also provides NGL fractionation services and processes natural gas and condensate. The above graph shows the segmental contribution to the company's EBITDA over the last six quarters.
Plains All American's Supply and Logistics segment
Plains All American's Supply and Logistics segment purchases crude oil, NGLs, and natural gas, and the segment also stores, transports, and resells these products. We should note that the segment's revenues are generally impacted by regional supply and demand for these commodities. As the above graph shows, unfavorable regional market dynamics appear to be impacting this segment's EBITDA.
More specifically, the contribution of the Supply and Logistics segment to the company's EBITDA fell from 27% in 3Q14 to 19% in 3Q15. According to the MLP, an existence of "ship or pay" contracts results in movement of oil and gas counter to what may be expected from market conditions. Under such contracts, the producer is required to pay even if the oil or gas is not transported. Notably, the segment's per barrel profit has also decreased due to tighter margins. This is due to new pipeline capacities in previously constrained production areas.
PAA makes up ~2.7% of the First Trust North American Energy Infrastructure Fund (EMLP), which invests in equity securities of companies in the energy infrastructure sector.
Continue to the next part for a discussion of Plains All American Pipeline's leverage situation.