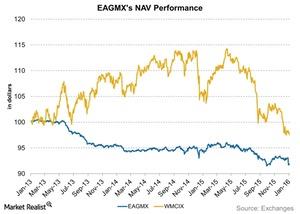 What Makes It Tick: EAGMX's Investment Methodology
By Ivan Kading

Nov. 20 2020, Updated 4:19 p.m. ET
EAGMX's investment methodology
The primary investment objective of the Eaton Vance Global Macro Absolute Return Fund – Class A (EAGMX) is to generate an absolute total return that is higher than the BofA Merrill Lynch 3-Month US Treasury Bill Index.
EAGMX employs an absolute return investment approach by benchmarking itself to an index of cash instruments, rather than a stock or bond market index.
The fund's global macro strategy seeks its investment objective by investing in securities, derivatives, and other instruments to establish long and short investment exposures around the world. The fund's primary holdings are foreign and domestic debt instruments, including corporate debt, equity securities, and commodities-related investments.
The graph above compares the net asset value (or NAV) performance of the EAGMX with another global macro strategy using alternative funds such as the William Blair Macro Allocation Fund – Class I (WMCIX).
Article continues below advertisement
Performance comparison
The global macroeconomic environment is currently in a recessionary phase due to a variety of factors, including falling crude prices and the strengthening dollar. Both EAGMX and WMCIX have suffered due to the weak global economy.
The above graph compares the NAV performance of EAGMX and WMCIX since January 2013. Both alternative funds have fallen significantly, giving a negative return to their investors.
EAGMX: Some metrics
The average dividend yield of the EAGMX's portfolio is 3.89%. The fund has a net expense ratio of 1.05% with a negligible fund manager's fee. Plus, 60% of its net assets are invested in sovereign government securities.
The top ten holdings of the fund represent 19.3% of its total portfolio. EAGMX's portfolio consists of futures contracts of the S&P 500 Index (VFINX), which contains stocks such as General Electric (GE), Johnson & Johnson (JNJ), Wells Fargo (WFC), and Facebook (FB). The fund had no direct investments in US common equity.
In the next article of this series, we will analyze EAGMX's foreign currency exposure.