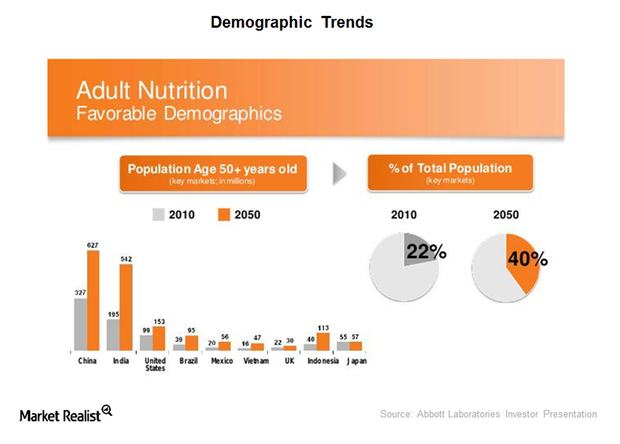 Major Factors That Can Impact Abbott Laboratories' 4Q15 Results
By Sarah Collins

Jan. 22 2016, Updated 1:06 p.m. ET
Emerging market expansion
Abbott Laboratories (ABT) is focused on expanding its business across emerging markets to leverage the growth potential of these countries. The increasing middle class in these countries is leading to more discretionary spending on healthcare by consumers. As the largest player in the nutrition products market and one of the largest manufacturers of diagnostic products, Abbott Laboratories has significant competitive advantages in these markets. Abbott Laboratories established a significant number of R&D (research and development) and operational facilities in these countries in 2015 and continues to expand in these markets.
Article continues below advertisement
Favorable trends
The world's elderly population is expected to double in size by 2050. The growing middle class creates favorable demographic and economic trends for Abbott Laboratories, which will leverage these trends through its strategically positioned product portfolio. Abbott Laboratories' product portfolio is broad and encompasses nutrition supplements, vascular medical devices, and products for the treatment of vision problems and diseases such as cataracts, which primarily occur in elderly people.
Key products driving growth
Abbott Laboratories has a strong and diversified product portfolio with a large number of products developed through R&D as well as products added to the company's portfolio through strategic acquisitions. One of the breakthrough technologies of Abbott Laboratories with significant potential to drive growth is ABSORB, a bioresorbable stent that is used to open clogged arteries and is dissolved and eventually absorbed by the body. Since ABSORB commands premium pricing as compared to conventional metal stents, it has the potential to significantly improve the profit margins of Abbott Laboratories' vascular segment and help improve the company's share of the stent market. Abbott Laboratories is in the process of seeking regulatory approvals of ABSORB in the United States, China, and Japan.
Article continues below advertisement
Abbott Laboratories' hefty cash balance
Abbott Laboratories has a huge cash balance including $3 billion of Mylan shares acquired through the sale of the developed markets generics pharmaceuticals business. The company has historically invested excess capital in strategic mergers and acquisitions and returned value to shareholders through dividend disbursements and share buybacks. However, in the past year, Abbott Laboratories has pursued a limited number of small-scale acquisitions and still holds a large amount of cash on its balance sheet.
The iShares Core S&P 500 ETF (IVV), which tracks an index composed of large market capitalization US stocks, invests 0.36% of its portfolio in Abbott Laboratories. It invests 0.62%, 1.6%, and 0.18% of its portfolio in Medtronic (MDT), Johnson & Johnson (JNJ), and Becton, Dickinson and Company (BDX), respectively.