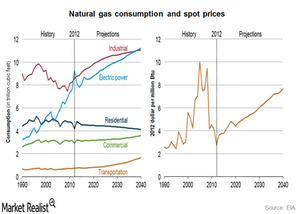 Low Natural Gas Prices Haunted Arch Coal Right Up to Bankruptcy
By Sheldon Krieger

Jan. 26 2016, Updated 7:36 a.m. ET
Inexpensive natural gas
Weak natural gas prices have haunted Arch Coal right up to its Chapter 11 bankruptcy filing. Those prices are still affecting the company. According to the EIA (U.S. Energy Information Administration), most of the  coal consumed in the United States is used in electricity generation.
The coal industry faces tough competition from natural gas as an alternative fuel in electricity generation.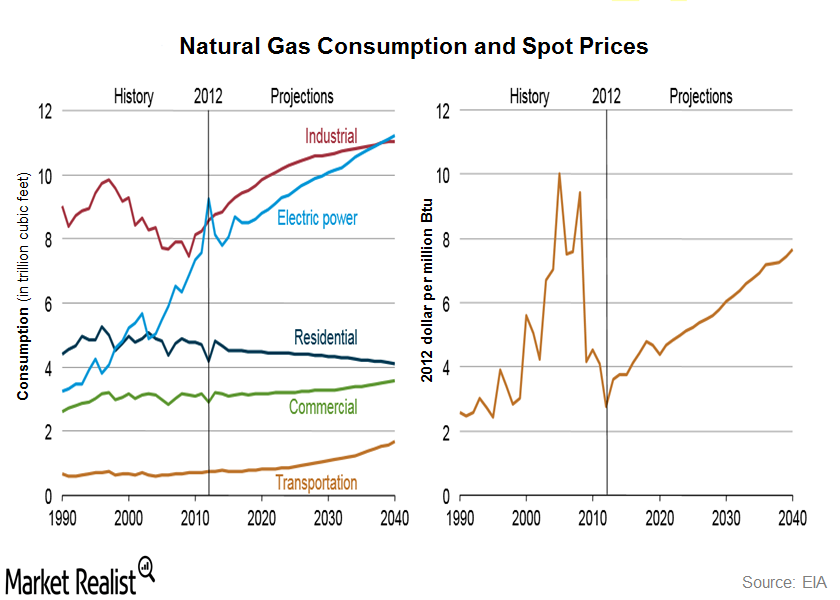 Natural gas prices dropped sharply between 2008 and 2012 as a result of the shale gas boom. The current natural gas rates are a third of what they were ten years ago.
Low prices give natural gas a competitive advantage over coal in electricity generation. Low natural gas prices also reduce the domestic demand for coal. For newly built power plants, natural gas is a preferred choice at lower rates.
Article continues below advertisement
Why natural gas is preferred over coal
Natural gas is cleaner than coal. Stringent environmental laws to reduce greenhouse gasses made natural gas a natural alternative to coal in power generation. According to the EIA, burning natural gas generates less nitrogen oxides (or NOX) and carbon dioxide (or CO2) than burning coal. So natural gas is a cleaner fuel than coal and a preferred choice in decreasing compliance costs.
There's increased efficiency in natural gas combined cycle (or NGCC) power plants. Combined cycle combines existing gas and steam technologies into one unit. It reuses the hot exhaust generated after burning of natural in a gas turbine to generate more electricity.
There's flexibility in NGCC power plants. In general, NGCC power plants are more flexible than steam turbines. NGCC power plants take less time and expense to ramp up or cut down production compared to conventional steam turbines.
Impact on Arch Coal's revenue