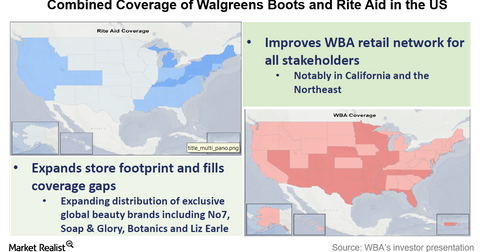 Looking at Walgreens Boots Alliance's Strengths and Weaknesses
By Sonya Bells

Updated
Strengths and weaknesses
In this section, we'll look at Walgreens Boots Alliance's (WBA) current strengths and weaknesses. In the next part, we'll discuss the company's potential opportunities and threats.
Article continues below advertisement
Strengths
Walgreens Boots is, by far, the world's largest drugstore company in terms of number of outlets. The Rite Aid deal would make it even bigger by adding 4,600 stores and improving its reach in the US market.
The acquisition of Alliance Boots expanded WBA's global footprint and provided opportunities for synergies and private label imports. The Rite Aid deal would do the same and is expected to bring $1 billion in synergies.
Walgreens Boots has an extensive and modern network of stores in the United States. Many of the stores offer drive-through and 24-hour trading. The network of stores is vast. According to Walgreens Boots' fiscal 2015 annual report, approximately 76% of the US population lives within five miles of a Walgreens or Duane Reade retail pharmacy.
Boots is one of the most trusted brands in European retail. Its expansion through organic growth, acquisitions, and joint ventures is gradually taking leadership positions in several markets.
Weaknesses
Alliance Boots is heavily reliant on the UK retail market, where consumer demand remains subdued. The UK market accounted for 41% of the company's non-US sales in fiscal 2015.
Boots suffers from a high price perception among consumers in the United Kingdom and thereby loses some customers to supermarkets and other rivals.
Walgreens Boots has taken on significant debt recently to finance the acquisition of Boots Alliance. Due to the Rite Aid deal, WBA would need to further increase the burden on its balance sheet, as it is an all-cash, no-stock deal.