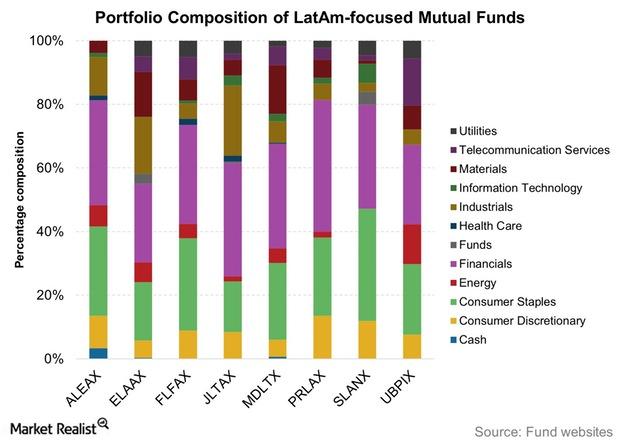 Latin America–Focused Mutual Funds: To Be Avoided in 2016?
By David Ashworth

Nov. 20 2020, Updated 2:25 p.m. ET
Latin America–focused mutual funds
In this series, we've reviewed eight Latin America–focused mutual funds (BDERX) in terms of their sectoral changes over the past year and the possible reasons for their performance. However, how do these funds' overall portfolio positions look?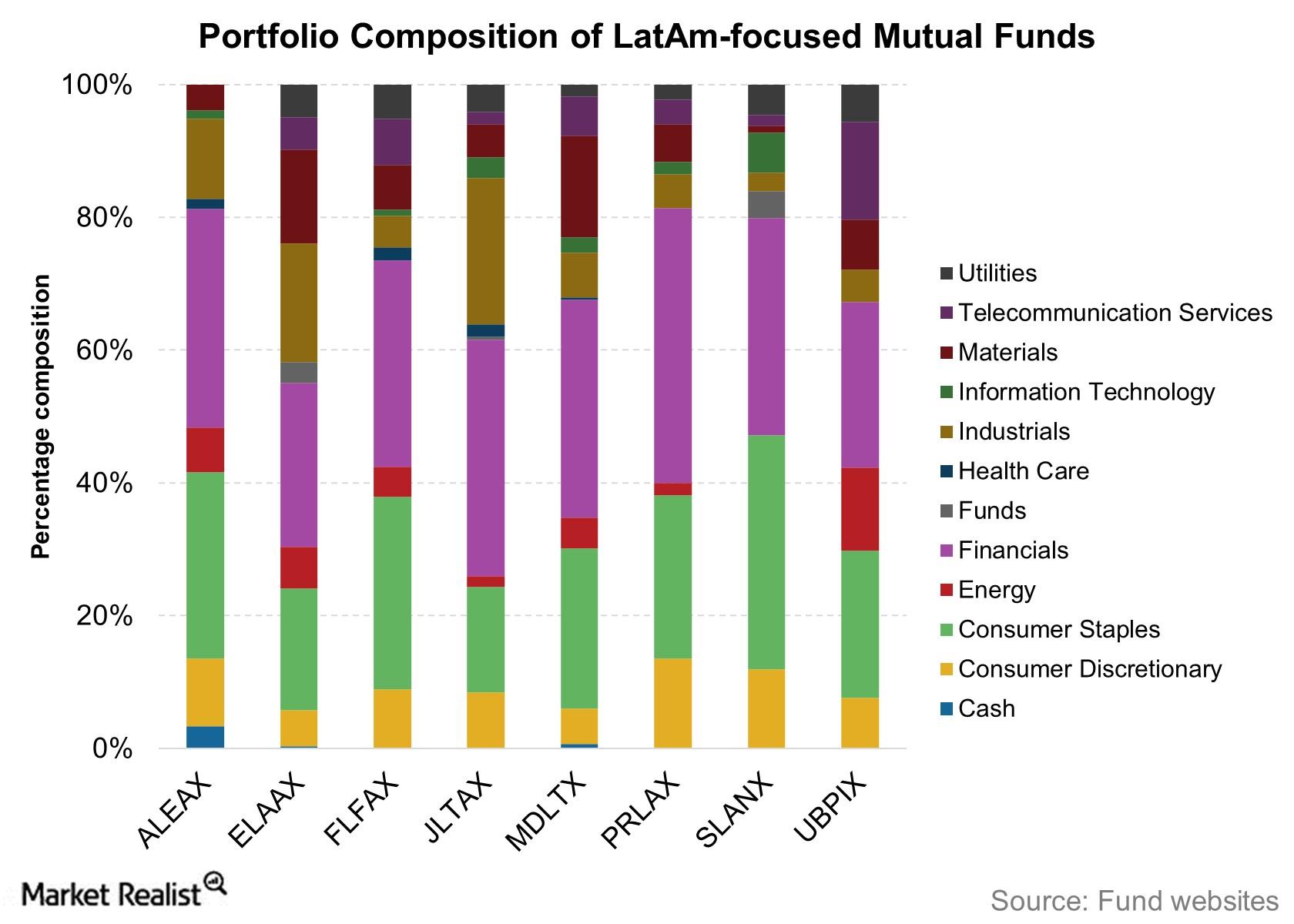 Article continues below advertisement
Portfolio composition
The graph above provides you a bird's eye view of what you're in for if you're investing in any of these eight Latin America–focused mutual funds. Financials are unequivocally the sector most invested in. During the year, there were a couple of funds that invested more in consumer staples than financials (FLFAX) (UBPIX). Their move to financials may indicate that fund managers expect the already beaten-down sector to do better following structural and financial reforms.
There is a difference of strategy as far as the consumer discretionary sector is concerned. A couple of funds (MDLTX) (ELAAX) have allocated just 5% of their assets to stocks from the sector. But there are three (PRLAX) (SLANX) (ALEAX) that have over a tenth of their assets invested in the sector. All three of these funds are heavily invested in consumer staples stocks as well. This indicates that they are being defensive but keeping up hope that the consumption pattern will improve, providing a boost to consumer discretionary stocks. All of these funds have either low or no allocation to telecom services or utilities.
Industrials have elicited a starkly different response from different fund managers. Three of the funds (SLANX) (FLFAX) (UBPIX) have less than 5% of their assets invested in the sector. On the other hand, one (JLTAX) has more than a fifth of its assets invested in these stocks.
Article continues below advertisement
In terms of asset size, the Aberdeen Latin American Equity Fund – Class A (ALEAX) is the smallest ($2.6 million), while the Fidelity Advisor Latin America Fund – Class A (FLFAX) is the largest ($453.8 million). As far as total portfolio holdings are concerned, FLFAX has the most with 87, while the UltraLatin America ProFund – Class A (UBPIX) has the least with 35.
Observations
Financials (BBD) (ITUB), consumer staples (CBD) (KOF), and materials (SQM) (CX) drove down the Latin America–focused mutual funds in 2015. However, the importance of stock-picking was demonstrated during this period. A few stock picks in both sectors (GGAL) (FBR) (BUD) could have been instrumental in reducing the drag on overall returns.
Brazil's economy is in a precarious position. It is stuck in stagflation—low inflation coupled with low economic growth and high unemployment. The fall in commodity prices has hit this commodity exporter hard. Corruption scandals and financial mismanagement have resulted in a sharp decline in consumer and investor faith and a ballooning deficit. To add to all of this, President Dilma Rousseff is facing impeachment.
It wouldn't be an overstatement if we said that Brazil's prospects for 2016 and 2017 have dimmed. However, buying stocks when most are fleeing is a potent strategy for superlative returns when the stocks do finally bounce. At this time, it's difficult to say whether that bounce will be seen in 2016, 2017, or later. Investors would be well advised to wait and watch at this juncture before investing in Latin America. Investing in Mexican, Chilean, and Peruvian stocks seems better from a top-down viewpoint.
Mutual funds can be the instruments of choice for retail investing in stocks from the region due to their benefit of diversification. For now, superior bottom-up stock picking could work better than a passive strategy for the region.
In earlier series, we analyzed Europe-focused mutual funds and US large cap equity funds. For more analysis on mutual funds, please visit Market Realist's mutual funds page.