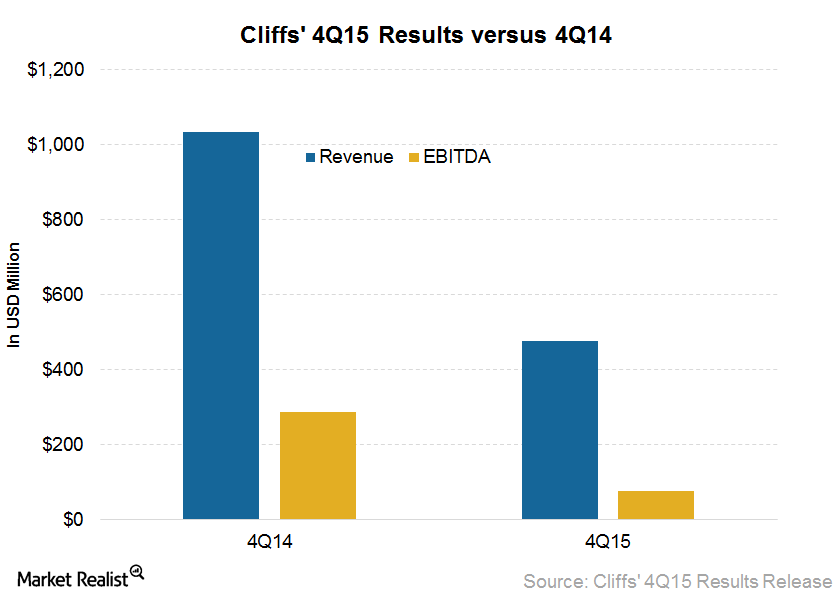 Key Highlights of Cliffs Natural Resources' 4Q15 Results
By Anuradha Garg

Jan. 30 2016, Updated 3:02 a.m. ET
Lower revenues and earnings
Cliffs Natural Resources (CLF) reported revenues of $476 million for 4Q15, a decline of 54% year-over-year (or YoY). The revenues for 2015 also dropped 40% YoY to $2 billion. A decline in revenues impacted the company's EBITDA (earnings before interest, taxes, depreciation, and amortization) negatively, as the cost of goods sold decreased by only 44% YoY in 4Q15.
Cliffs reported a net loss of $60 million for 4Q15, which translates into a loss per share of $0.39. The loss for the full year amounted to $748 million.
Article continues below advertisement
Reduction in costs
Cliffs Natural Resources' SG&A (selling, general, and administrative) expenses amounted to $110 million for 2015. The management has guided for $95 million of SG&A in 2016. Out of this amount, $30 million will be non-cash.
As we'll see later in the series in more detail, Cliffs has considerably reduced its per-unit costs for both its Asia-Pacific iron ore segment and its US iron ore segment in 4Q15. The cost reductions were above market expectations.
DR production update
Cliffs' management stated during the conference call that they have reached a significant milestone with positive results coming from the full-scale operational trial of DR-grade (direct reduced) pellets. The management maintained that they are still in the early stages of the DR-grade pellet business. However, in its 3Q15 earnings call, Cliffs Natural Resources has stated that with iron ore and scrap prices at current low levels, "it's very difficult to justify investments that would put more capacity to produce DRI in the Great Lakes." To read more about the US industry's shift to EAF and its impact on Cliffs, please read Should Cliffs Be Concerned about US Steel Industry's Shift to EAFs? 
Of the other companies in the iron ore segment, Rio Tinto (RIO) and BHP Billiton (BHP) (BBL) also released their 4Q15 production results in January. Vale SA (VALE) is due to announce its results in February 2016. Rio and BHP reported an increase in production shipments. It is due to the increase in seaborne supply coupled with a weaker demand, which has resulted in seaborne prices coming under increased pressure.
The SPDR S&P Metals and Mining ETF (XME) is another way for investors to get exposure to the metals and mining space without picking individual companies. Cliffs Natural Resources forms 3% of XME's holdings.