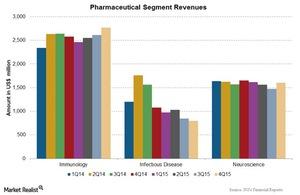 JNJ's Blockbuster Drug Remicade Sees Flat Revenues in 4Q15
By Mike Benson

Jan. 28 2016, Updated 3:12 p.m. ET
Pharmaceutical segment
Johnson & Johnson's (JNJ) pharmaceutical segment comprises its immunology, infectious disease, neuroscience, oncology, and cardiovascular and metabolics businesses.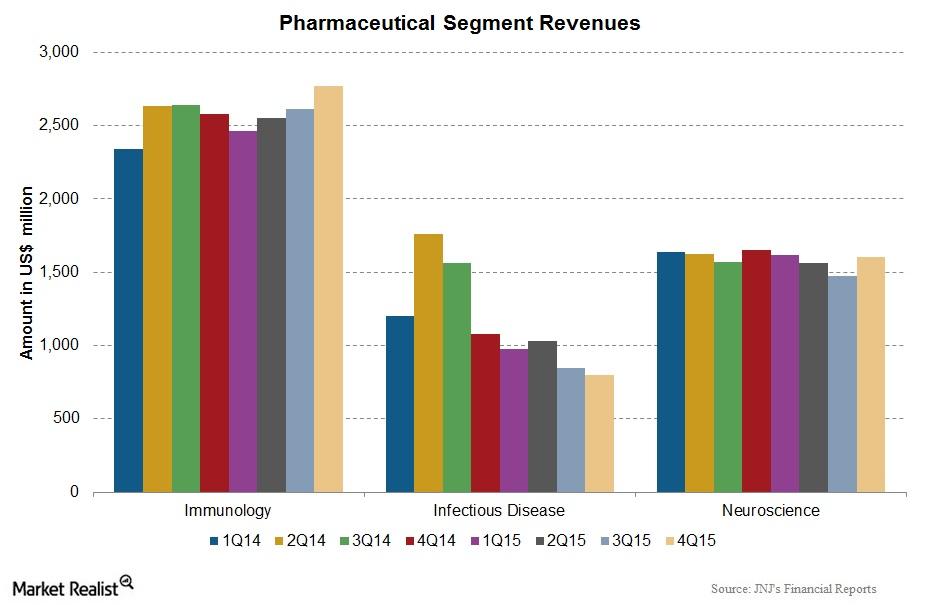 Article continues below advertisement
Immunology
The major blockbuster drugs under the immunology business are Remicade, Stelara, and Simponi or Simponi Aria.
Remicade, the blockbuster drug for the treatment of arthritis, has seen the impact of its patent expiry. Its revenues were flat for 4Q15. This was due its growth by label expansion in Japan offset by the introduction of biosimilar versions of the drug. Remicade sales fell in 2015 due to lower sales to distribution partners.
Stelara, another blockbuster drug from JNJ's immunology business, reported a rise of over 36% during 4Q15 compared to 4Q14. Stelara competes with Amgen's (AMGN) and Pfizer's (PFE) Enbrel and Abbott's (ABT) Humira. For 2015, Stelara reported over 19% growth in its revenues due to strong demand and increased penetration.
Simponi Aria reported growth in demand due to increased penetration in US markets, which was offset by lower sales of Simponi to distribution partners. Overall, the sales for Simponi and Simponi Aria fell by ~1.7% during 4Q15 over 4Q14.
Article continues below advertisement
Infectious disease
JNJ's infectious disease business consists mainly of HIV products and hepatitis C products.
Hepatitis C (or HCV) products include Olysio, Sovriad, and Invico. Revenues for HCV products have substantially fallen as a result of increased competition in US markets. Olysio revenues fell by over 86% in 4Q15 compared to 4Q14.
Revenues for HIV products including Prezista and Prezcobix improved by over 4.2% during 4Q15 over 4Q14, following the launch of Prezcobix and increased demand for HIV products.
For 2015, the infectious disease business fell by ~35% due to lower sales of HCV products.
Neuroscience
JNJ's neuroscience business consists of drugs such as Concerta, Invega Sustenna, and Xeplion. Concerta revenues rose by over 26% during 4Q15 due to the reclassification of generic competitors in the US market, while Invega Sustenna and Xeplion reported 25% rises in 4Q15 revenues following higher demand for long-acting injectable products worldwide.
For 2015, JNJ's neuroscience business reported a fall of 3.5% in its revenues due to lower sales of Invega and negative currency impact.
Investors can consider ETFs such as the iShares US Pharmaceuticals ETF (IHE), which holds 10.8% of its portfolio in JNJ, or the Fidelity MSCI Healthcare Index ETF (FHLC), which holds 8.8% of its portfolio in JNJ, in order to divest their risk.