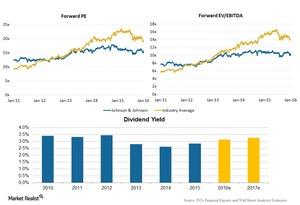 JNJ's Mature State Helps It to Consistently Pay Dividends
By Mike Benson

Jan. 28 2016, Updated 3:12 p.m. ET
Valuation multiples
Forward PE (price-to-earnings) and EV/EBITDA (enterprise value to earnings before interest, tax, depreciation, and amortization) multiples can be two of the best valuation multiples to use when valuing Johnson & Johnson (JNJ) and other large pharmaceutical companies, given the relatively stable and visible nature of their earnings.
PE multiples are widely available and represent what one share can buy for an equity investor. EV/EBITDA multiples, on the other hand, are capital-structure neutral.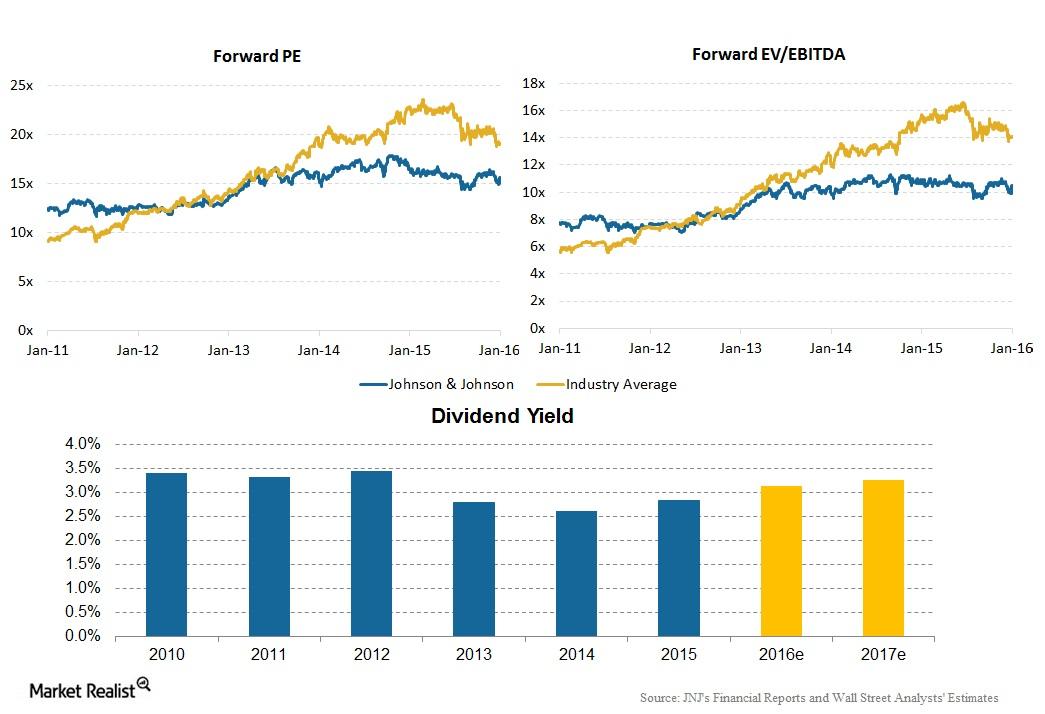 Article continues below advertisement
Forward PE
On January 27, 2016, Johnson & Johnson was trading at a forward PE multiple of ~15.6x. Based on the last five years' multiples, JNJ's current valuation is neither high nor low. Its PE multiple has ranged from ~11.5x to ~18x.
Johnson & Johnson's valuation multiple opposed the industry trend until mid-2013, and it has since followed the overall trend. Whether the healthcare sector's forward PE multiple rises or falls, JNJ will definitely be affected.
The industry currently trades at forward PE multiple of ~19.1x. Other competitors such as Pfizer (PFE), Merck and Co. (MRK), and Eli Lilly (LLY) have forward PE multiples of 12.8x, 13.8x, and 22.8x, respectively.
Dividend yield
Given the company's stable state, its dividend yield was 2.6% in 2014, while it was 2.8% in 2015 and will be 3.1% in 2016. JNJ's dividend yield over last 12 months was 2.9%.
The company's dividend payout ratio improved to 53.8% in 2015 compared to 47.6% in 2014. For 2016, the dividend payout ratio is estimated to be 48.1%. The company's mature state has helped it to pay regular dividends, and its stock could be a good option for both growth and income investors.
Forward EV/EBITDA
On a capital-structure neutral and excess cash–adjusted basis, JNJ currently trades at ~10.5x, which is much lower than the industry average of ~14.1x. Other competitors such as Pfizer, Merck and Co., and Eli Lilly have forward EV/EBITDA multiples of 10.6x, 10.1x, and 16.1x, respectively.
Investors can consider ETFs such as the SPDR S&P International Health Care Sector ETF (IRY) or the iShares US Pharmaceuticals ETF (IHE) in order to divest their risk.