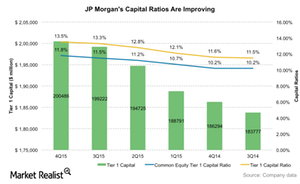 J.P. Morgan Is Fortifying Its Balance Sheet
By Rebecca Keats

Jan. 14 2016, Updated 7:09 p.m. ET
JPMorgan Chase
JPMorgan Chase is a financial holding company. It has a market cap of $215 billion as of January 14. With assets of over $2.4 trillion, it is one of the largest banks by assets in the United States. Since the financial crisis of 2009, there has been intense pressure on US banks (XLF) to raise capital levels to meet minimum requirements. Since then, banks have worked hard to reduce leverage and fortify their balance sheets.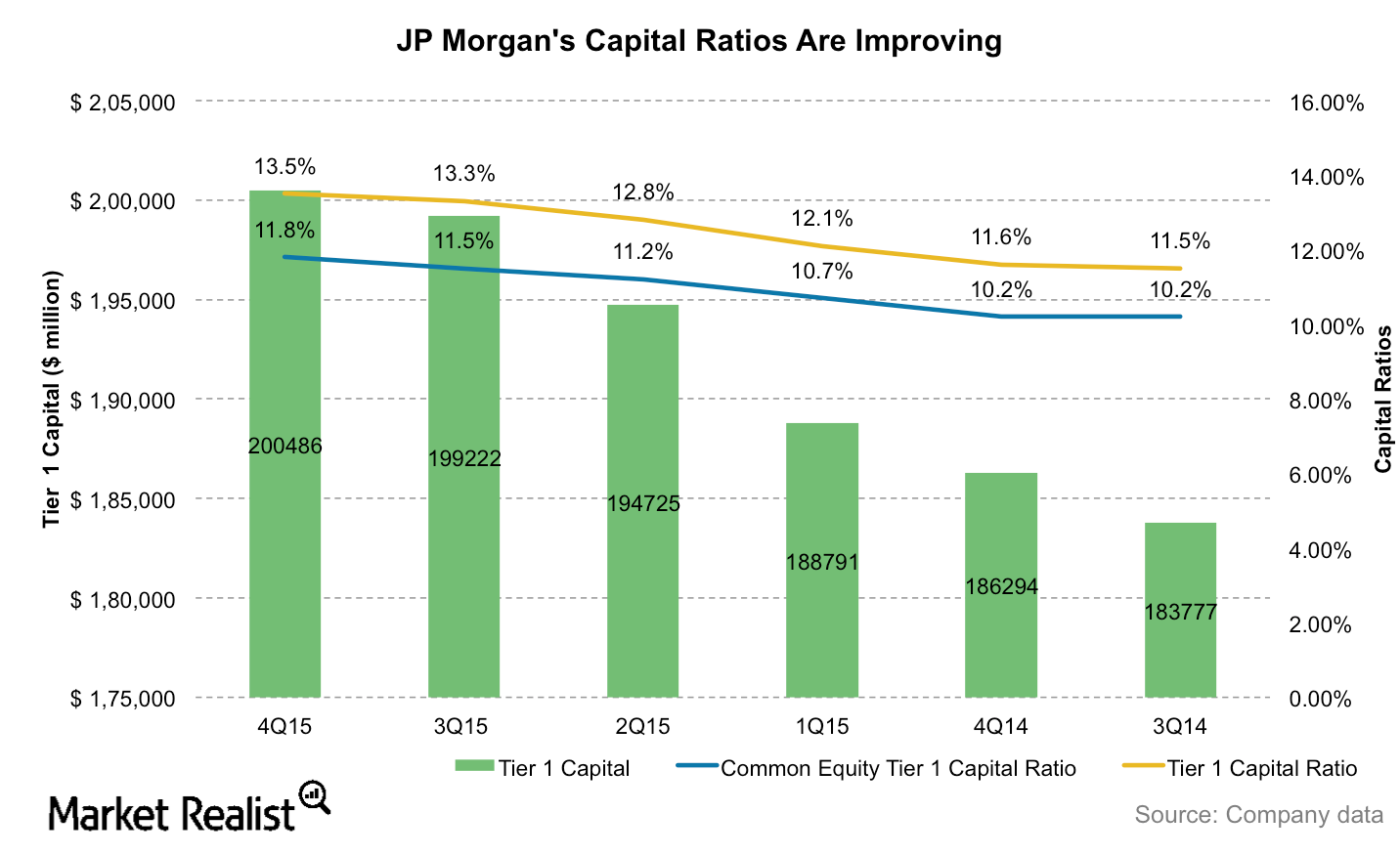 Article continues below advertisement
J.P. Morgan's capital ratios
During the fourth quarter, J.P. Morgan's (JPM) common Tier 1 capital rose to $173 billion from $172 billion in the previous quarter. Its common Tier 1 ratio for the fourth quarter under Basel III norms was 11.6%, up from the 11.4% reported in the previous quarter. Tier 1 capital increased to $199 billion in the quarter. Thus, its Tier 1 capital ratio climbed to 13.3% from 13.1% in the previous quarter and 11.4% in 4Q14. The company's risk-weighted assets declined to $1,499 billion from $1,513 billion in the previous quarter and $1,619 billion in 4Q14. Total assets fell by $220 billion in 2015 due to a reduction in non-operating deposits.
J.P. Morgan's leverage ratios show improvement
Leverage ratios are measures of the quality of a bank's assets. Leverage ratios are defined as the proportion of a bank's tier I capital ratio to its total assets. The Basel III Capital Adequacy framework has introduced a new ratio for controlling excess leverage. This measure expects banks to maintain a leverage ratio of at least 3% at all times. J.P. Morgan's leverage ratio increased to 6.5% during the fourth quarter from 6.4% in 3Q15 and 5.6% in 4Q14.
J.P. Morgan is the first among the largest US banks to report earnings after the Federal Reserve raised interest rates. Investors are eagerly waiting for earnings of peers like Citigroup (C), Wells Fargo (WFC), Bank of America (BAC), and Goldman Sachs (GS) before they make any changes to their positions in the sector.