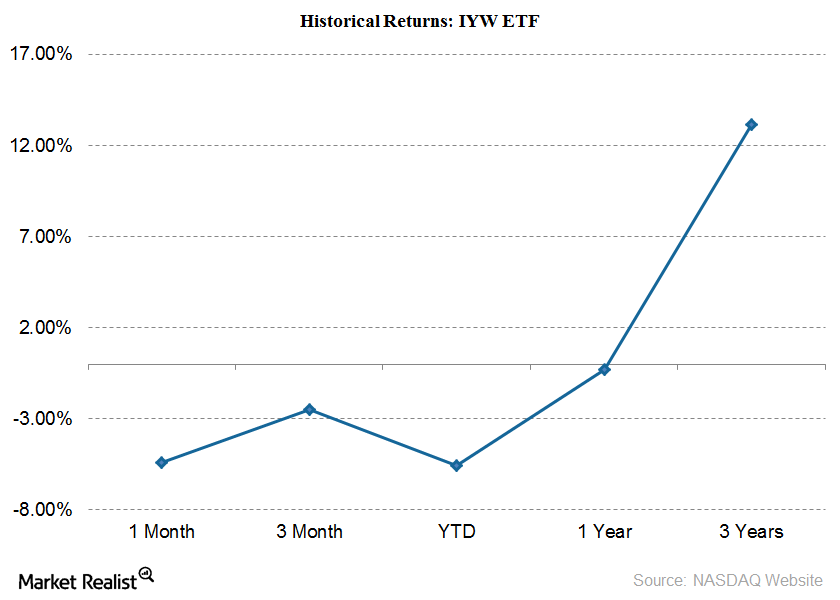 IYW Sees Net Fund Outflows in Trailing One Month
Overview of IYW
The iShares Dow Jones US Technology ETF (IYW) tracks a market-cap-weighted portfolio of US technology companies. IYW tracks the performance of 148 publicly listed companies in the technology sector.
IYW's market capitalization is $2.5 billion with an expense ratio of 0.45% and average daily volume of shares traded of $30.5 million. Its price-to-earnings ratio is 19.89x. Its price-to-book ratio and distribution yield stand at 4.25x and 1.2%, respectively.
Article continues below advertisement
IYW's top five holdings are Apple (AAPL) at 18.8%, Microsoft (MSFT) at 11.6%, Facebook Class A Shares (FB) at 6.3%, Alphabet Class A (GOOGL) at 5.9%, and Alphabet Class C (GOOG) at 5.8%. These companies make up more than 45% of IYW's total portfolio. Apple comprises 13% of the Power Shares QQQ ETF (QQQ) as well.
Fund flows in IYW
In the trailing one month, net fund outflows for the iShares Dow Jones US Technology ETF (IYW) were $42.2 million. In the trailing 12-month period, net fund outflows were $1.8 billion. Fund flows in the trailing one week and trailing three months (quarterly) were -$15.3 million and $101.3 million, respectively.
IYW generated investor returns of -0.3% in the trailing 12-month period and -5.4% in the trailing one-month period. In comparison, it generated 13.1% returns in the trailing three-year period, -5.5% year-to-date, and -2.5% in the last three months. We can see that as the ETF generates positive returns, fund outflows increase.
Moving averages
On January 19, 2016, IYW closed the trading day at $96.73. Based on this figure, here's how the stock fares in terms of its moving averages:
8% below its 100-day moving average of $105.13
9.8% below its 50-day moving average of $107.21
6.8% below its 20-day moving average of $103.76