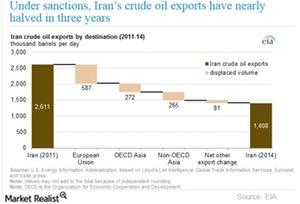 Iran's Role as a Leading Supplier of Nonrenewable Energy
By Rabindra Samanta

Jan. 27 2016, Updated 7:06 p.m. ET
Iran plans to increase its energy exports
In November 2015, Iran's oil minister announced a new model of contracts for foreign oil and gas companies during a two-day conference in Tehran. The new framework allows foreign investors to retain the oil fields for a longer period. Foreign companies used to develop the oil fields and hand them over to Iranian oil companies.
According to the new contracts, foreign companies will develop the oil and gas fields and extract the oil and natural gas from the fields. Foreign companies will own a stake in the oil and gas fields. However, the resources will belong to Iran. Europe (FEZ) will be a lucrative market for Iran. Oil and natural gas are important components of Iran's GDP (gross domestic product). Iran's top trading partners are China (FXI), the United Arab Emirates, and India (INDY).
Article continues below advertisement
A lucrative opportunity for Eurasian companies
European companies like Royal Dutch Shell (RDS.A) and Total (TOT) are gearing up for the new contracts. The investment opportunity will also attract companies from Pakistan, India (INDY), and China (FXI). Russian companies like Lukoil (LUKOY) are also looking to invest under the new contract framework. The graph above shows the fall in Iran's crude oil exports during the sanctions.
In the next part of this series, we'll discuss Iran's crude oil and natural gas reserves.