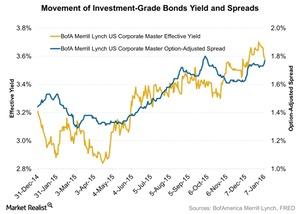 Why Did Investment-Grade Corporate Bond Yields Fall?
By Lynn Noah

Jan. 14 2016, Updated 5:37 a.m. ET
What are investment-grade bonds?
Investment-grade corporate bonds are debt instruments rated BBB- and above by rating agency Standard & Poor's. Other rating agencies have their own scale of rating corporate bonds as investment-grade. Treasuries are also considered investment-grade.
Mutual funds such as the Vanguard Total Bond Market Index Fund – Investor Shares (VBMFX) allow you to invest in these instruments. VBMFX invests in investment-grade corporate bonds of companies such as Apple (AAPL), Verizon (VZ), Goldman Sachs (GS), Cisco Systems (CSCO), and The Home Depot (HD).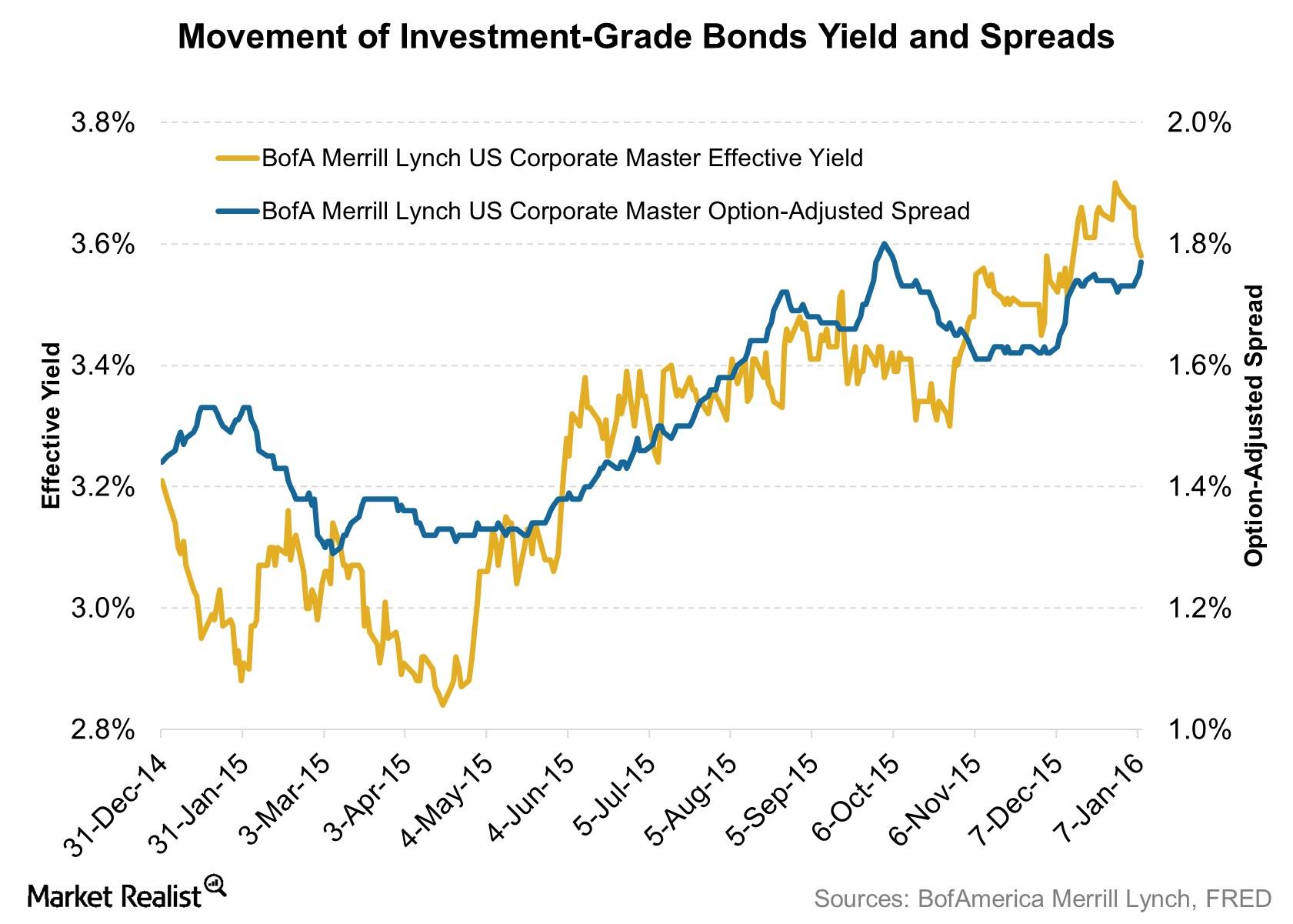 Article continues below advertisement
Yield movement
According to the BofA Merrill Lynch US Corporate Master Effective Yield Index, yields hovered in the range of 2.8%–3.7% in 2015. In 2015, yields saw many ups and downs due to global market developments. They averaged 3.3% in 2015 and touched a low of 2.8% in mid-April, primarily because of turbulence in European markets due to the economic crisis in Greece, which led to a rise in safe-haven demand for investment-grade bonds. Yields rose and touched a high of 3.7% on December 29, which was not only the highest level of 2015, but also the highest point reached since January 25, 2012. The major reasons for the rise in yields was the Fed's interest rate hike on December 15, uncertain global growth outlook, and slowdown and rising uncertainty in China.
January started with falling yields as Chinese uncertainty gripped the markets globally. Investment-grade bond yields ended at 3.6% on January 8, 2015, ten basis points lower week-over-week.
Meaning and importance of spreads
The BofA Merrill Lynch OAS (option-adjusted spread) measures the average difference in yields between investment-grade bonds and Treasuries. Securities rated BBB- or higher on Standard & Poor's rating scale are selected for calculating this spread.
If spreads rise or widen, it can be assumed that credit conditions are worsening. Spreads also widen when growth is slow and economic conditions are worsening. Conversely, falling or tightening spreads coincide with faster growth and better economic conditions.
How have spreads moved in 2015?
In 2015, spreads fell until late April and then rose. In 2015, spreads ranged between 1.3 and 1.8% and their average came in at 1.5%. The OAS averaged 1.5% in January 2015, and then fell in February, March, and April, to 1.4%, 1.4%, and 1.3%, respectively. However, from May onwards, the average OAS began to rise. Spreads averaged 1.3% in May, 1.4% in June, 1.5% in July, 1.7% in August, 1.7% in September, 1.7% in October, 1.6% in November, and 1.7% in December. Spreads touched a high of 1.8% on October 2, which was their highest since September 11, 2012.
Last week, spreads rose by four basis points and ended at 1.8% on January 8. Meanwhile, spreads are up by 29 basis points year-over-year. In the next article, we'll look at the deals and volumes of investment-grade corporate bonds.