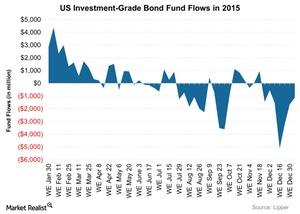 Investment-Grade Bond Issuance Rose 8% in 2015
Investor flows
According to Lipper Funds Flow data, in 2015, investment-grade bond funds saw net inflows of $1.8 billion up to December 30, 2015.
Investment-grade bond issuance rose 8.0% to $1,508.7 billion in 2015.
In 2015, Actavis (ACT), AT&T (T), AbbVie (ABBV), Visa (V), CVS Health (CVS), Microsoft (MSFT), and Shell International—a subsidiary of Royal Dutch Shell (RDS.A)—were some of the biggest issuers of investment-grade bonds. You can read the details of these issues in Part 4 of this series.
Article continues below advertisement
Yield and spread analysis: Corporate high-quality debt securities
Yields were up 47 basis points from the previous year. They ended at 3.68% on December 31, 2015, according to the BofA Merrill Lynch US Corporate Master Effective Yield.
As yields were up year-over-year, the Bond Fund of America – Class A (ABNDX) was down 1.4%.
Like yields, the option-adjusted spread (or OAS) also rose 29 basis points year-over-year to end at 1.73% on December 31, 2015. The OAS measures the average difference in yields between investment-grade bonds and Treasuries. So a rise in this spread implied that the risk of high-grade bonds relative to Treasuries increased.
For more analysis on mutual funds, please visit Market Realist's Mutual Funds page.