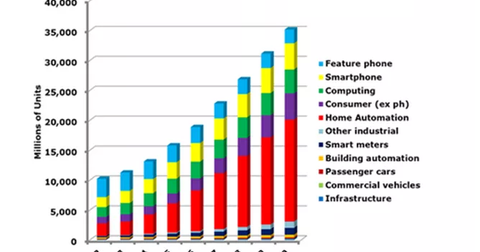 The Internet of Things Shows Tremendous Growth at CES 2016
By Adam Rogers

Updated
Samsung unveils "smart" refrigerator
One of the major highlights of the Consumer Electronic Show, or CES, was the amazing growth in the Internet of Things, or IoT. Samsung (SSNLF), Korea's (EWY) leading consumer electronics company, unveiled a smart refrigerator. Consumers can use smartphones to look inside a refrigerator and check what needs to be on their shopping list.
Samsung's Family Hub Refrigerator has a 21.5-inch, 1080p touchscreen on the front. The refrigerator also features a small camera that allows owners to see inside while shopping at a grocery store. The smart refrigerator is the first third-party home appliance featuring Amazon's (AMZN) Alexa, the digital voice assistant in Amazon's Echo. This refrigerator is expected to be available in May 2016 and will be priced at approximately $5,000.
The IoT market is thought to be one of the next big growth areas in the tech sector. According to a report from Semico Research and as the chart above shows, IoT-connected devices are expected to increase from 13 billion in 2014 to 35 billion in 2020.
Fitbit (FIT) also launched its first smartwatch at the CES.
Article continues below advertisement
Ford collaborates with Amazon in the smart car space
At the CES, Ford Motor (F) and Toyota Motor Corporation (TM) announced investments in the driverless car space. The companies also pledged to "bring models to market for everyday consumers."
Toyota Motor Corporation has invested over $1 billion in the development of driverless cars. It is now looking to form a "200-person company designed to advance automated driving and other artificial intelligence."
Ford aims to make driverless cars available to consumers by 2020. Amazon's Alexa will be integrated with Ford's cars and other connected devices.