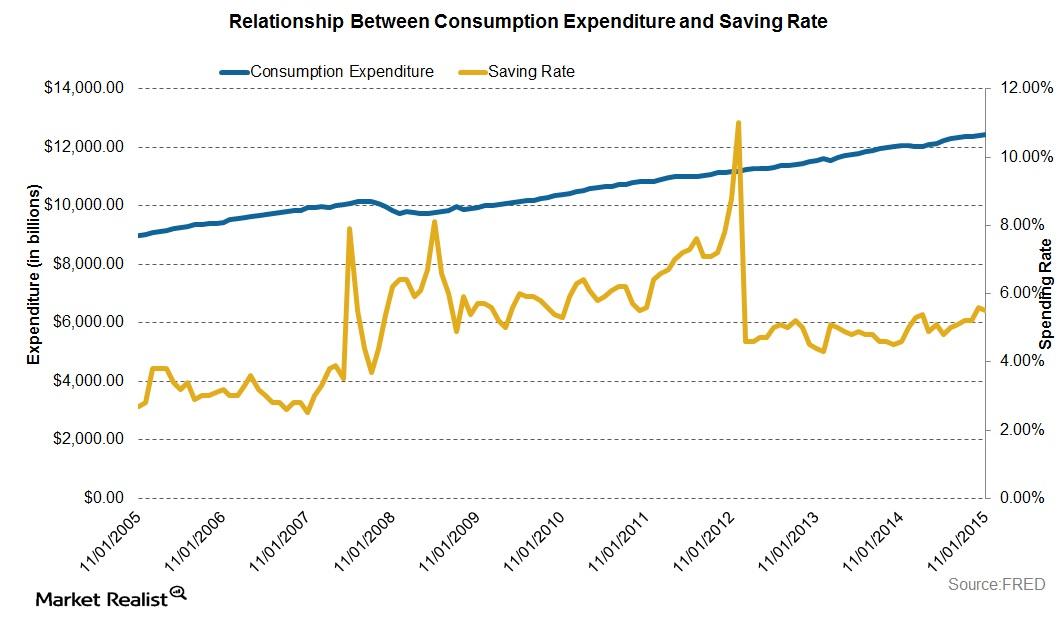 Impact of Consumer Spending on Retail REITs
By Steve Sage

Jan. 6 2016, Updated 2:27 p.m. ET
Effect of consumer spending and savings on retail REITs
Retail REITs own and operate properties such as shopping malls and supermarkets. Retail REITs earn revenues from the number of footfalls in the properties they own or operate. In the iShares US Real Estate ETF (IYR), there are 17 REITs in the retail sector with a combined market capitalization of $174 billion. They account for 19% of the total IYR market capitalization.
Simon Property Group (SPG) is the largest retail REIT with a market capitalization of $60 billion. It's followed by General Growth Properties (GGP) with $24 billion and Macerich (MAC) with $13 billion.
Investors looking for diversification in the retail REIT sector can get exposure through the iShares Cohen & Steers REIT ETF (ICF) and the Vanguard REIT ETF (VNQ).
Article continues below advertisement
Main drivers of the retail industry
Consumer spending and the overall health of the economy are the main drivers of retail REITs. The Federal Reserve's decision on December 16, 2015, to increase the interest rate by 0.25% could have a positive or negative impact on consumer spending. An increase in the interest rate may lead to consumers saving more, as they can receive a higher rate of return on their money. Or with the expectation of an increase in inflation, consumers may be influenced to spend more if they believe inflation will erode the purchasing power of the dollar.
The overall health of the economy is also impacted by changes in the interest rate. In a depressed economy, consumers may not be able to take advantage of financing, even when interest rates are low. But if consumers are confident about the economy and future income prospects, they may be willing to take more risks and spend money.
The above graph shows the relationship between consumer saving and expenditures over a ten-year period.