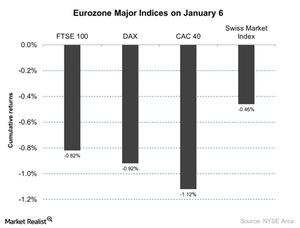 What Would a Hydrogen Bomb Mean for the Eurozone and Japan?
By Sarah Sands

Jan. 6 2016, Updated 4:20 p.m. ET
North Korea and the Eurozone
The Eurozone (EZU) is an important ally for NATO. NATO, led by the United States (SPY), has already imposed sanctions on North Korea. North Korea's claim of a hydrogen bomb test poses a direct threat to NATO and European countries. The way North Korea is ruled may not guarantee the proper use of nuclear power, which could threaten developed economies such as the Eurozone and Japan (EWJ).
It still has not been confirmed what type of bomb North Korea actually tested. Some believe it could have been an advanced nuclear weapon with high intensity of fission reactions.
Article continues below advertisement
Major indexes of the Eurozone
The major indexes of the Eurozone opened in the red in Wednesday's early trading and continued to trade in the negative zone. Following are the indexes and their returns as of 4:00 AM Eastern Standard Time on January 6, 2016:
The United Kingdom's FTSE 100 Index fell 0.82%.
Germany's DAX fell 0.92%.
France's CAC 40 fell 1.1%.
Switzerland's Swiss Market Index fell 0.46%.
The major Asian indexes also fell on January 6, 2016. Japan's Nikkei 225 fell 1%, and Hang Seng fell 0.99%. Major stocks of Nikkei such as Toyota Motor (TM), Honda Motor (HMC), and Sony (SNE) fell 2.0%, 0.66%, and 2.2%, respectively, that day.
North Korea said the nuclear test is a protection tool
According to KCNA (Korean Central News Agency), North Korea has successfully tested a hydrogen nuclear bomb. North Korea wants the hydrogen bomb as a protection from the ever-growing nuclear threat. However, Japanese Prime Minister Shinzo Abe immediately said Japan "absolutely cannot tolerate" the bomb, which is a big threat to Japan's security.
In the next part of this series, we'll look at FEZ's various industries and how they performed on January 5, 2016.