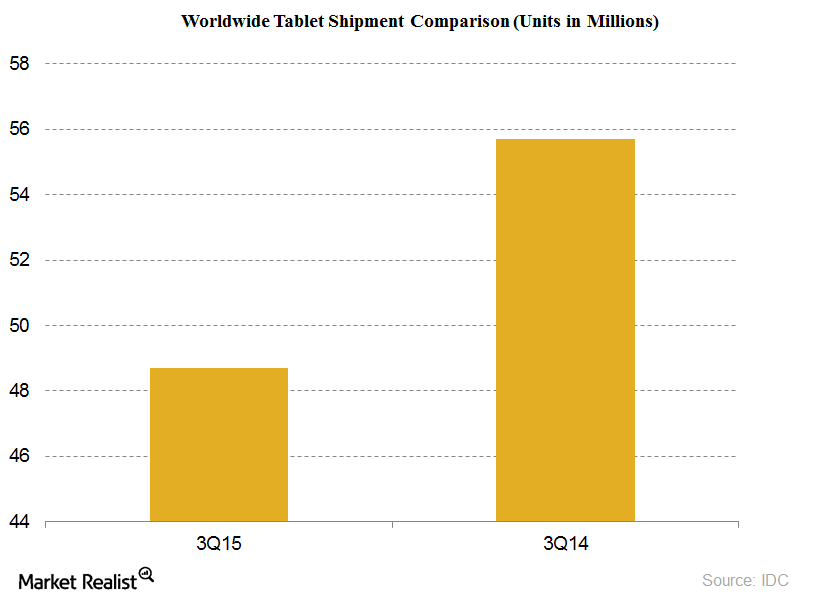 HPQ's Low-Margin Tablet Market Exit Was an Important Decision
By Adam Rogers

Jan. 23 2016, Updated 7:04 a.m. ET
HP focuses on profitability and growth
Last month, Hewlett-Packard (HPQ) announced that it would exit the low-end tablet market. "We are going to focus where there is profitability and growth and will not chase the low-end tablet market," Ron Coughlin, president of Personal Systems at HP, said in a statement. "We are focusing on business mobility to deliver tablets built for field service, education, retail and healthcare."
This decision was primarily driven by increased competition, as the low-cost tablet segment already has major players, including Amazon (AMZN) with its Fire tablet priced at $49.99. Acer, Asus, and China's (GXC) Lenovo are also competing in the low-end tablet space. However, HP is still selling the Envy 8 Note tablet, priced at $329.99, indicating a preference for Windows (MSFT) over Android (GOOGL).
Article continues below advertisement
Tablet market shipments fall in 3Q15
According to market research company International Data Corporation, worldwide tablet shipments fell 12.6% YoY (year-over-year) in 3Q15, to 48.7 million units from 55.7 million units in 3Q14. Apple's (AAPL) shipments fell 19.7% YoY in 3Q15, whereas Samsung's shipments fell 17.1%.
"In the past, the biggest challenges with 2-in-1 devices were high price points, less than appealing designs, and, quite frankly, lack of demand for Windows 8, which was the OS most devices were running," said Ryan Reith, program director with IDC's Worldwide Quarterly Mobile Phone Tracker, in a statement.
"With more OEMs offering devices in this segment, prices have started to come down significantly. We estimate that over 40 different vendors shipped 2-in-1 products in the second quarter of 2015, which is up from just 14 vendors two years ago," Reith said. "With the launch of Windows 10, the introduction of more Android-based products, and the possibility that Apple will unveil a larger, screen-detachable iPad, this is the space to watch."