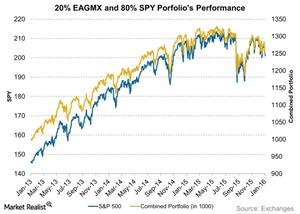 How Adding EAGMX Could Affect Your Portfolio
By Ivan Kading

Updated
Positive returns
The Eaton Vance Global Macro Absolute Return Fund – Class A (EAGMX) is a liquid alternative mutual fund that uses a global macro strategy similar to that used by hedge funds to achieve its investment objective. EAGMX has performed positively with an annual total return of 2.4% as of January 6, 2016.
The top holdings of EAGMX include fixed income securities of the firm from various countries, including the US. The fund also has forward contracts of the S&P 500 Index (VFINX), which contain stocks such as Apple (AAPL), Microsoft (MSFT), Johnson & Johnson (JNJ), and JPMorgan Chase (JPM). The graph below demonstrates the effect of adding EAGMX to a portfolio of holdings similar to the S&P 500 Index.
Article continues below advertisement
20% EAGMX and 80% S&P 500 portfolio performance
The global environment is currently suffering due to the weak macroeconomic environment. The above graph compares the performance of a mixed portfolio of 20% EAGMX and 80% S&P 500 with that of S&P 500's performance itself.
This portfolio has underperformed with respect to the S&P 500 Index, but it can help diversify a portfolio that is completely invested in equities.
Conclusion
Alternative mutual funds use modern hedge fund strategies in order to achieve their investment goals. These funds are riskier than traditional mutual funds as they are not restricted to a long-only strategy. Alternative funds are one of the fastest-growing asset classes in the investment industry.
Similar to EAGMX, various other mutual funds provide access to different hedge funds. One such fund is the PIMCO Commodity Real Return Strategy Fund – Institutional Class (PCRIX). PCRIX gives retail investors access to the popular commodity return strategy of hedge funds. Please refer to A Structural Overview of Alternative Fund PCRIX for more information.