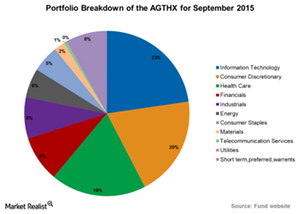 The Growth Fund of America: A Sectoral Analysis
By Seth Bennett

Jan. 12 2016, Updated 12:22 p.m. ET
The Growth Fund of America
The Growth Fund of America – Class A (AGTHX) seeks long-term capital appreciation by investing in large-cap and mid-cap companies. The fund may invest up to 25% of its net assets in securities domiciled outside the US.
The investment philosophy of the fund's adviser is to invest in attractively valued companies. The investment adviser carries out fundamental analysis, which may include meeting with company executives and employees, suppliers, customers, and competitors.
AGTHX's assets were invested across 424 holdings, and it managed $147.12 billion in assets as of November 2015. For our analysis, we will consider holdings as of September 2015, which is the latest available sectoral breakdown.
The fund's equity holdings included Avago Technologies Limited (AVGO), Gilead Sciences Inc. (GILD), UnitedHealth Group Incorporated (UNH), and Amgen Inc. (AMGN), which form a combined 7.6% of the fund's portfolio.
Article continues below advertisement
Fund facts
Launched in December 1973, the Growth Fund of America – Class A (AGTHX) managed $147.12 billion in assets as of November 2015. As of the end of September 2015, 82% of the fund's assets were invested in companies from the US. Companies from Japan, the Netherlands, Canada, and the United Kingdom made up 1.5%, 1.2%, 1.1%, and 1%, respectively, of the fund's September portfolio.
The fund's net expense ratio is 0.65%. The management fees comprise 0.27%, while the 12b-1 fee, which represents the distribution or service fees, is 0.24%. The maximum sales charge that the fund can levy is 5.75%. The minimum investment requires to purchase the fund is $250, and the minimum subsequent investment is $50.
Portfolio composition
According to the fund's sectoral composition for September, the latest available, information technology is the sector that AGTHX is most invested in. Consumer discretionary and healthcare are its second- and third-largest sectors, respectively. Consumer discretionary formed 19.7% of the fund's net assets, and healthcare formed 18.7% of the portfolio. The fund does not invest in the utilities sector.
Over the past 12 months ended September 2015, AGTHX's exposure to information technology increased to 22.7% of the portfolio, as compared to 20.9% last year. The healthcare and consumer discretionary sectors saw a sharp rise in their shares. On the other hand, energy and materials saw their shares fall in AGTHX in the last year.
In the next article, we will analyze how the portfolio's composition impacted AGTHX's performance.